LOCAL THEMES
agriculture
communications
conflict
development
economics
education
employment and income
environment
family life
festivals
forestry
gender
health
identity
justice and crime
livelihood strategies
migration
politics
social change
social institutions
spiritual beliefs
tourism
traditional skills
water
BACKGROUND
glossary

OTHER LOCATIONS
china
ethiopia
india
kenya
lesotho
nepal
pakistan
peru
poland

introducing the area

the themes


the partners


publications


the testimonies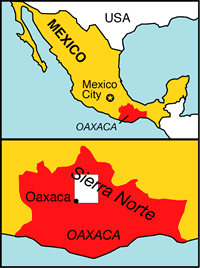 move cursor over image
for local map
Mexico's Sierra Norte (also known as Sierra Juárez) lies in the southern state of Oaxaca. This mountain range has been recognised as an area of great biological importance because of the abundance and diversity of plants and animals that it supports. The range of climatic and vegetation zones - especially the forests - make it a vital part of the global ecosystem. Such is the mosaic of micro-environments in the mountains and valleys of the Sierra Norte that the territory of many communities embraces two, even three, climatic zones. Many narrators refer to

tierra caliente

or "hot lands", as distinguished from

tierra templada

(temperate lands) and

tierra fría

(cold lands). For example, the territory of Ixtlán de Juárez, one of the four communities featured in this collection, is long and thin on a map but ranges from 200 to 3,200 metres in height, and benefits from all three zones. This makes it possible to grow different crop types, and provides such biodiversity that there are an estimated 4,000 species of plant in Ixtlán's territory alone.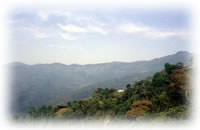 The mountain range is also home to several ethnic groups, including one of the country's most important: the Zapotec. The narrators come from four Zapotec communities. Ixtlán is the largest and most prosperous, closest to the city of Oaxaca de Juarez, and with the beginnings of a community-run ecotourism centre. San Miguel Tiltepec is the smallest, poorest and most remote, at the time of testimony collection not yet linked by road to its neighbours. A key economic activity is coffee cultivation. Santa Maria Yavesía and Santa Caterina Ixtepeji (with the hamlets of La Cumbre and Las Animas), are less isolated, and while most residents remain small farmers cultivating staple crops, they also benefit from small enterprises such as carpentry, fish-farming and flower cultivation.
Several narrators express deep concern about indiscriminate tree felling, mentioning the impact on water supplies and rainfall, as well as over-exploitation of wildlife and other resources. The Zapotec have traditionally a strong bond with their natural environment, in which religion plays a significant role. The "lord of the mountains", a Zapotec deity known as Guzio, is said to live within the Sierra Norte, and to take care of mountain people, some of whom are now striving to preserve the remaining forest.
the themes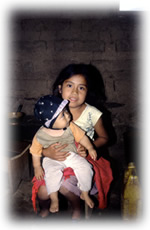 Although several older narrators perceive a decline in the indigenous language, and recall how teachers "punished us and our fathers or our mothers if they heard us speak Zapoteco", today it seems that Yavesía and other Sierra communities are trying to provide teaching in both Spanish and Zapoteco. It is striking that most narrators identify themselves as Zapotec first, then Oaxacan, rather than Mexican. Indeed, taken overall the testimonies point to continuity of Zapotec cultural identity. A significant number of the younger narrators conducted their interviews in Zapoteco, not Spanish.
Central to these communities' organisation is the cargo system, under which members take on various civil and religious responsibilities, usually for a year or so. Several narrators mention starting with lower-level cargo positions as young as 14. Higher- level positions bring more status, and are carried out by only a handful of citizens. Cargo positions are unpaid, providing free services to the community. Most narrators are aware that these self-help services are fundamental to the operation of the community. As Miguel of Ixtlán explains with quiet pride: "One of the things valuable to the community is its customs, and own style of self-governing. This is the foundation for the strength of the village." The obligation to perform tequio, a form of communal labour for specific tasks of benefit to the wider community, is also still recognised.
A continuing sense of identity and community responsibility is tested by migration (often to the USA), which has become a way of life. Modern culture and expectations exert a powerful influence, especially on the young, and many narrators comment on the growing tension between modern and traditional ways of life. Several reflect on the conflict and opportunities this presents. Mario Fernando, who went to university and worked in Mexico City, has returned to his original home. Fully committed to Yavesía's values, he nevertheless ruefully admits: "It is difficult to re-accept the principles of the village when it basically says that the good of the community comes before you, isn't it?"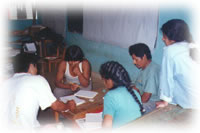 Women have the most positive comments to say about social change, which has brought greater freedom to take up education and cargo positions and - according to one in particular - an appreciable decline in machismo. The advent of electricity and clean water has also made life easier, but more costly - and the reduction in the barter system has increased people's dependence on cash income. The search for new sources of income, combined with the increasingly urgent need to preserve the surrounding natural resources, has motivated the setting up of ecotourism ventures in Ixtlán, Ixtepeji and Yavesía.
Striking a balance - between individual advancement and collective responsibility, between protecting their environment and traditional culture and taking up economic opportunities - is a fundamental concern of these narrators. Such dilemmas are coming ever closer to the residents of Tiltepec. As they eagerly awaited the completion of the (untarmacked) connecting road, they knew that access to markets and improved health and education facilities would come at a price. The far hillside already bore the scars of the construction and heavy machinery, but they were in no doubt that the "most important thing is that [the road] gets here, yes, so we don't have to walk, carrying our goods…".
the partners
WWF Mexico's regional office in Oaxaca coordinated the project in partnership with SERBO, a local organisation dedicated to the study of the state's natural resources, and the preservation of related indigenous knowledge. Three members of SERBO's ethnobotanical team at the time - Judith Leticia García Rodríguez, Rafael García Soriano and Juan Carlos Flores Vázquez - interviewed narrators with whom they had long been working, documenting local knowledge. Members of each community also trained and worked as interviewers: Bernardino Montaña Mendoza, Gil Hernández Montaño (Tiltepec); Fernando Ramos (Yavesía); Angel Pérez Pacheco, María de Jesús Pérez Ramírez (Ixtlán) and Silvio Martinez, Jairo Torres Perez, Carlos Yescas Hernandez, Armando Mendez Yescas, and Zoila Yescas (Ixtepeji). Peter Newborne of WWF-UK and Gloria Tavera and Rocio Heredia Diaz of WWF Oaxaca managed the project, and in 2001, a booklet based on the testimonies was distributed to all those involved. After incorporating their feedback, WWF Oaxaca published Voces de las montanas: testimonios orales de la Sierra Norte de Oaxaca in 2002. It was distributed to conservation organisations, community and public libraries, environmental and social research institutes in Oaxaca and Mexico City, NGOs, government institutions and the communities themselves. Copies were also distributed at an awards event in November 2002 where three of the communities were recognised for their conservation efforts. A PDF version of this booklet is accessible on this site.

top
publications

top