introducing the area

the themes


the partners


publications


the testimonies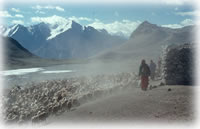 Northern Pakistan borders Afghanistan, China and India and is home to three significant mountain ranges: the Hindu Kush, the Western Himalaya, and the Karakoram. The Karakoram mountain range contains the greatest concentration of high peaks in the world and the longest glaciers outside the Polar region. Five of the world's 14 peaks over 8000m are in Northern Pakistan, including the world's second highest mountain K2, and there are some 82 peaks over 7000m within a radius of 180 kilometres. The region is also characterised by much diversity in terms of language and culture. There are more than 10 different languages, several different Islamic sects (including Ismaili, Sunni and Shia), and several communities belonging to non-Islamic belief systems.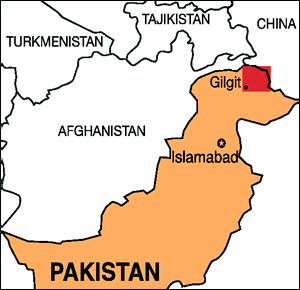 move cursor over image for local map

The testimonies in the Pakistan collection are from Shimshal, a community whose territory makes up a significant part of the Karakoram mountain range in Northern Pakistan. It includes many peaks over 6000 metres, numerous glaciers and productive alpine pastures.

"We have something…that others don't: beautiful nature - the mountains and glaciers, and independence,"

says Inayat, conveying the pride and attachment Shimshalis have for their environment.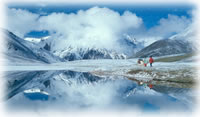 Shimshal village lies at 3100m and most of the cultivatable area lies between 3000 and 3300 metres. The short growing season at this altitude allows only one crop to be cultivated in a year; the major crops are wheat, barley, potatoes and peas. Shimshal is one of the few communities in Pakistan's Northern Areas that grows enough agricultural produce to feed itself. It is the sole steward of vast areas of high-altitude pasture, and extensive herding of sheep, goats, cattle and yaks allows Shimshalis to earn much of their income from the sale of livestock and livestock products.
Shimshalis trace their ancestors back 14 generations to their "grandfather" Mamusing who settled in the area with his wife. Their son, Sher, claimed rights over the Pamir - the pastures - after winning a polo match against herders from Kyrgyzstan. Several narrators describe this story in detail. Others recall the era when Shimshal was part of the independent principality of Hunza, ruled and taxed by the Mir. In 1974, President Zulfiqar Ali Bhutto declared an end to the remaining princely states in Pakistan, including Hunza.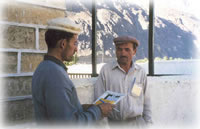 Shimshalis are Wakhi speakers and Ismaili Muslims. Members of the same cultural-linguistic group live in other valleys in Northern Pakistan, as well as the Wakhan corridor of Afghanistan, and parts of China and Tajikistan. Ismailism is a branch of Shia Islam and Ismailis follow their living Imam (spiritual leader), currently the Aga Khan.
the themes
The influence of Ismailism and the Aga Khan is clear from the testimonies. The commitment to education - especially female education - can be attributed partly to guidance from the Aga Khan. Many of the social institutions in Shimshal are Ismaili-based and the key development organisations in the region are Aga Khan institutions.
Many narrators describe in detail the festivals and systems of work that have been integral to people's lives. In particular, they talk about nomus, the philanthropic system of community development unique to Shimshal. Those with sufficient wealth "sponsor" a bridge, trail or building, for the community's benefit, by providing resources for the project and food for those who give free labour. Nomus is carried out in the name of a relative and to generate blessings from God.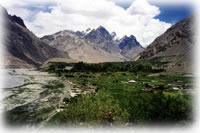 Since 1974 there have been plans to include most of Shimshal's pastures in the Khunjerab National Park. Khaliq describes the community's response: "When this Park was established it created much worry in the village, because they were trying to deprive us of our grazing and agricultural lands…which we have been using for hundreds of years." Rather than simply oppose the authorities, some of the younger generation decided to "prove that we are the best managers of this land". They established the community-based Shimshal Nature Trust (SNT) and developed their own environmental management plan to communicate to the authorities how they have always managed their environment sustainably - and will continue to do so.
In 2003, after the interviews were collected, a road linking Shimshal with the Karakoram Highway was completed after 17 years. The hazards of the old journey to and from Shimshal are vividly described by many narrators. People welcome the development benefits the road will bring, but are concerned that increased migration and economic opportunities will further erode the unity, cooperation and independence of Shimshal. Such hopes and fears echo people's more general comments about the changes in recent decades. Muzaffer's personal story illustrates the pace of those changes: "Fifteen years ago, I was a shepherd in the village; today I am an executive officer."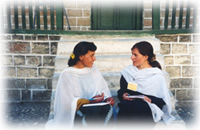 Male migration has affected gender roles, with women becoming responsible for tasks previously carried out by men. In recent years female primary education has become almost universal, and several young women are currently completing their education outside Shimshal. Women are now invited to participate in most village institutions.
Many men work during the summer as porters for trekking and mountaineering groups throughout the Northern Areas. Their wages make up a large part of Shimshal's overall income. Whilst everyone appreciates increased standards of living, there is concern that this is leading to greater individualism. Yet the testimonies suggest that the way of life in Shimshal is still relatively collective and cooperative.
Although the narrators are all from one community, there is much variety in age, occupation and experience. Narrators include farmers, teachers, a world-class mountaineer, a yak herder and a development professional.
the partners
The Shimshal Nature Trust is a community-based organisation which was originally established to formally respond to the plans to include most of Shimshal's territory in the Khunjerab National Park. SNT developed their own environmental management plan to communicate to the authorities how Shimshal as a community has always sustainably managed their environment, and how they will continue to do so in the future. SNT has a broad vision of the environment, which includes social, cultural and economic concerns, and its activities reflect this.
SNT coordinated the collection of over 60 testimonies; 34 were translated into English. The interviewers were Rahmat Nazar, Momin Shah, Farman Ullah, Majnoon Khan, Mohammed Amin, Samim Shah, Hajat Shah, Hussn Bibi, Taj Begum, Nighat Paree, Abdullah Bai, Mohammed Khaliq, and Jamila Inayat. The testimonies were translated by Johar Ali, Yasmin Farman Ali, Dure Yasmin, Inayat Ali, Mehboob Ali, and Sher Ali. SNT are producing radio programmes in Wakhi, based on the recorded interviews, for local broadcast, and their own English-language booklet should be completed in 2006.
publications




Voices from the mountain: Pakistan
A selection of oral testimonies from a Wakhi-speaking Ismaili community in the far north of Pakistan
> Download booklet (pdf, 685 kb)