LOCAL THEMES
agriculture
community activities
compensation
culture and customs
development
economics
education
employment and income
environment
environmental knowledge
family life
gender
health
history
justice and crime
land
livelihood strategies
livestock
migration
resettlement
social change
social institutions
social relationships
spiritual beliefs
BACKGROUND
glossary

OTHER LOCATIONS
china
ethiopia
india
kenya
mexico
nepal
pakistan
peru
poland

introducing the area

the themes


the partners


publications


the testimonies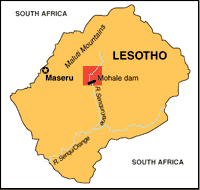 move cursor over image
for local map
Lesotho is the only country in the world with all its territory above 1000 metres. Entirely surrounded by South Africa, it is situated at the highest point of the Drakensberg escarpment on the eastern rim of the South African plateau. Lesotho is also one of the world's poorest nations: cultivable land is scarce, mineral resources limited, and the country's most precious resource is water. Indeed, the mountains in Lesotho form Southern Africa's most important watershed - which is why one of the world's largest and most complex engineering projects is taking place in one of its most impoverished regions. The billion-dollar Lesotho Highlands Water Project (LHWP) involves the construction of a series of tunnels and dams to take water from Lesotho's Senqu/Orange River to South Africa's industrial heartland, Gauteng province. In return, Lesotho receives royalties from the sale of its water, and some hydroelectric power.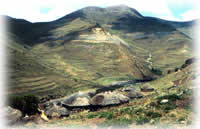 These testimonies were gathered from several villages in the Molika-liko area (see map). All the narrators have now been relocated, but in their interviews they describe mountain life as they experienced it then. Agriculture and livestock formed the mainstay of their existence, but until recently most of the men spent significant periods of time as migrant labour in the South African mines. This was virtually the only option available to anyone wanting to earn cash. Several months after the last interview was gathered, the villagers were moved away from their mountain valley. The area is to disappear under the waters of the huge Mohale reservoir, together with their houses, fields, graveyards, grazing land and other private and communal resources.
the themes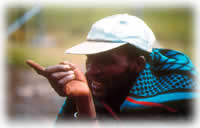 The narrators describe a way of life that for generations has altered relatively little. The most significant forces for change in recent times have been increasing exposure to the monetary economy, and the advent of the road, precursor to relocation and built as part of the massive Lesotho Highlands Water Project. Agriculture, which allowed a reasonable degree of self-sufficiency, is a dominant theme, as are social institutions and the networks of mutual help and support that the community has relied on and takes pride in. In the face of imminent resettlement - some to lowlands and semi-urban areas; some to other highland communities - people talk of their feelings of powerlessness and vulnerability, their distrust of the Lesotho Highlands Development Authority (LHDA) - the body responsible for implementing resettlement - and their fears for the future. The knowledge that their way of life was to change for ever may have led some narrators to romanticise their current existence, but others acknowledge tensions and dissension within and between communities. Some narrators, too, talk of how social relations and attitudes were already undergoing change, and not always just along generational lines.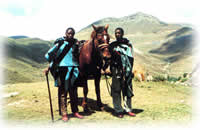 Not surprisingly, however, the most common cause of anxiety in these accounts is loss of self-sufficiency. Many express foreboding as to how losing their land will affect them not just in terms of livelihood, but also self-esteem. Most of the men's experience of working in the South African mines has made them wary of the dependence generated by being a wage labourer, and of the finite nature of money. Mountain life might be frugal but with land, they felt, they always had a productive resource - and a crucial degree of self-reliance. They speak with pride of their environmental knowledge and how it has enabled them to adapt and survive in a harsh landscape. But they also know that it is precisely the specialist nature of their knowledge - living in an area where each valley is distinguished by variations of climate, soil and vegetation - which may render them at a loss when they move elsewhere in the highlands. And for those moving to urban areas, such skills are all but redundant.
the partners
The interviews were gathered between November 1997 and February 1998, with the help of local NGOs the Transformation Resource Centre (TRC) and Lesotho Highlands Church Action Group. The project was coordinated by Dr Motlatsi Thabane, of the Department of History, National University of Lesotho.

All narrators received illustrated copies of their interviews in Sesotho and English. In 2001 and 2002 TRC, with Panos, continued to gather interviews with the villagers, in order to gain greater understanding of their experiences in their new locations, several years after resettlement. In 2004 The Irony of the "White Gold" was published in Sesotho and English, based on these first-hand accounts. The booklet was part of a programme of activities that have raised awareness of the varied experiences of those affected by the LHWP, empowered them to lobby for their rights and, with TRC, gain some reforms to LHDA's policies.

top
publications

top