LOCAL THEMES
agriculture
communications
community activities
culture and customs
development
economics
education
employment and income
environment
family life
food security
forestry
gender
health
history
identity
livestock
migration
population
social change
social relationships
spiritual beliefs
traditional skills
water

BACKGROUND
glossary
OTHER LOCATIONS
ethiopia
india
kenya
lesotho
nepal
pakistan
peru
poland

introducing the China collections

the themes


the partners


publications


the testimonies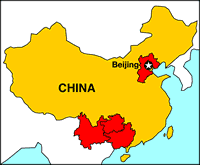 China probably contains more mountain and highland territory than any other country in the world. This site features interviews from two contrasting mountainous areas.
One collection was gathered in Huanglongsi, in China's Hebei province, in the northeast. All the narrators are Han Chinese, China's majority people. Although transport and communications remain limited, the community is relatively close to major urban centres and more affected by modernisation than the more isolated and remote communities where the other collection was gathered, thousands of miles to the southwest in Yunnan, Guizhou and Guangxi. These more tropical and forested mountains are home to many of China's minority groups with their distinct languages and cultures, and none of the narrators is Han. In both collections, all narrators except one are women, and their stories bear witness to the fact that women have become China's main labour force in many rural areas.
These two sets of testimonies, gathered in 1998-99, are treated as separate collections; each has its own set of thematic pages.
northeast china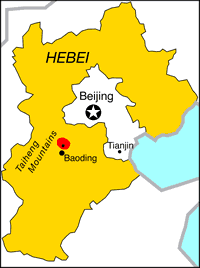 Huanglongsi (Yellow Dragon Temple) is in the Taihang Mountain Range, which meanders for 500 kilometres across the northern territories of Henan, Shanxi and Hebei. Huanglongsi is at the eastern foot of the mountains, in Mancheng county, Hebei province. Although Huanglongsi is referred to by narrators as a village, it is a collection of hamlets scattered over a large area, comprising some 1180 people in over 340 households. About 40 per cent of adults are illiterate. The closest urban centres - Baoding, Yixian and Mancheng - are 70-100 kilometres from the village and can be reached by a road which is largely unpaved.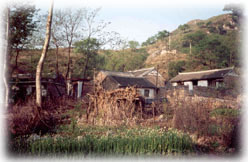 Like many of China's rural communities, Huanglongsi is changing from a traditional economy to a modern industrialised one. Under the leadership of a particularly dynamic village head (one of the narrators), the village recently entered a period of significant change and raised enough money to set up its first school, and drew up plans which include reforesting bare mountain slopes and developing local animal husbandry. All the narrators are women.
southwest china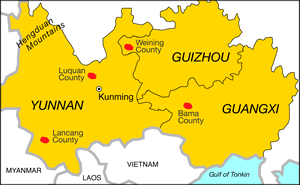 Most of China's rural poor live in its hilly and mountainous regions, and in recent years the government has concentrated its "war on poverty" in these areas. Among the poorest of the poor are China's minority peoples, not least because they are outside the dominant culture and language.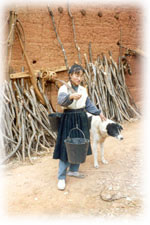 In the second collection from southwest China, narrators come from five different minority groups: Miao, Yi, Lahu, Wa and Yao. In total 40 women and 1 man of different minorities were interviewed, 26 of these accounts were translated into English and the most informative 13 selected for inclusion on this website. Narrators were from six different villages in four of the poorest counties in China: Luquan and Lancang counties in Yunnan province, in the Hengduan mountains; Weining county in Guizhou province; and Bama county in Guangxi province.
the themes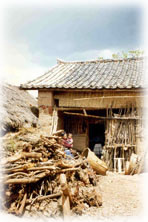 "Since almost all the men have left the village with only the old and the young at home, all work in the fields is left to women," explains Diao'er, a 28-year-old Han living in Huanglongsi. For much of the year the community is peopled by women looking after the family, livestock and agriculture, while the men are away on contract work in the nearby cities. Many of these workers complain of being cheated or underpaid by their employers. The economic significance of migration, and its influence on social change, is also a key factor in the second collection, among minority peoples in the south-east. Almost all families interviewed relied on the men finding casual unskilled work, sometimes over the border, in Myanmar or Laos. But these labourers seem to be even more vulnerable to exploitation by employers, as their own languages are not spoken on the plains and in the cities. Indeed, each minority group has its own particular customs, practices and language, which remain a source of pride and definition. But their different testimonies reveal common concerns too, not least the struggle to maintain their identity and culture yet take advantage of modern life.
Weaving and sewing traditional clothes remains a valued skill, for example, but it is a time-consuming task - some young people feel it is better to use that time to earn money and buy ordinary ("Han") clothes; others see the maintaining of traditional costume and skill as a source of pride and satisfaction in lives that are otherwise filled with little but hard labour. Low levels of literacy and limited access to news and information, plus some residual prejudice against minority peoples, make life even harder.
Yet almost without exception the narrators - in both collections - talk of expanded opportunities to earn money since China's economic reforms took hold, and express a preference for the new system of working for oneself rather than communally. But school fees remain beyond the range of some families, and most people said they were too poor to be considered for bank loans. Family networks remain a crucial source of support, financial and practical. Health facilities are both limited and too costly for some, especially for reproductive health, and this combined with women's heavy workload meant many narrators suffered constant ill-health.
The Han women of Huanglongsi also carry a heavy workload, but being closer to modern cities and amenities, and sharing the country's common language, they enjoy better access to information, ideas and training. In the late 70s, the first electricity supply was set up; in 1981 the first motorized water pumps, bringing clean drinking water and the possibility of irrigation; a year later the first paved road was built; and in the 1990s families began to get their own water taps. But at the time of collection there were still no telephones or government medical facilities, and no broadcasting system for news or entertainment.
Nevetheless, the 1990s has seen significant change. People have been leasing part of the barren hillsides (denuded for fuelwood by earlier populations) and are re-foresting them with fruit and other trees. Less visible change is coming about as a result of massively increased migration to urban areas for work. Apart from making money, returned migrants have started new development projects and brought back new ideas. Major obstacles remain: women's hard work in the fields still produces only just enough food for the year and if the harvest is reduced by climate or pests, they need relief food from the state. Re-afforestation is a long-term investment; in the meantime, wage labour is crucial.
Most adults in Huanglongsi have had little chance at education, particularly women, of whom 70 per cent are classified as illiterate or semi-literate. Conscious of how this limits their ability to learn new skills and techniques, most families - in both collections - place great emphasis on education for the new generation. With assistance from outside organisations, the villagers of Huanglongsi have built a new school. Seen as the symbol of their "farewell to ignorance", it may also turn out to stand for a farewell to the mountain, since many parents expect their children to work in the cities. Their aim, however, is to build up a core of educated, capable villagers whose concern is to make life in the mountain an attractive, viable alternative.
the partners
The collection in Huanglongsi was gathered by members of the Women's Studies Centre, Tianjin Normal University, and coordinated by Professor Du Fangqin. In southwest China, interviews were gathered by members of Oxfam Hong Kong's China office (coordinated by Wylie Liu and Li Bo), and the Yunnan Minority Gender and Development Group (coordinated by Professor He Zhonghua). Both organisations based in Kunming. Interviewers from the same minority groups as their narrators spoke to Yi and Miao in Weining county, Guizhou province and in Luquan county, Yunnan province; to Yao in Bama county, Guangxi autonomous region; and to Wa and Lahu in Lancang county, Yunnan province.
All partners participated in the training workshop in Yunnan and after completion of field work, transcription and translation, shared and commented upon the two different collections. In 1999 the Women's Studies Centre and the partners in southern China published complementary volumes of their respective testimony archives. These two impressive and substantial books shared the title Daughters of the Mountains and contain good analysis of the interviews, followed by selections from the testimonies themselves. They achieved wide distribution within China, particularly to academics, development and gender specialists. Oxfam Hong Kong used the material to inform its integrated rural development programme in the region, and the Women's Studies Centre continued to build on the collection with more interviews and plans for literacy materials and activities.
publications