RELATED THEMES
development
environment
food security
land
livestock
social relationships
OTHER LOCAL THEMES
communications
culture and customs
economics
education
environment
family life
gender
health
history
identity
justice and crime
land
livestock
migration
population
resettlement
social institutions
spiritual beliefs
traditional skills

BACKGROUND
introducing the area

agriculture

quotes about agriculture


key testimonies featuring agriculture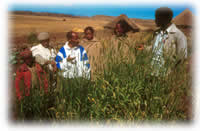 Agricultural practice before the reallocation of land was that in each growing season part of the farmland was left fallow to recover its fertility. Since the population was also small the crops produced were sufficient to feed people for two seasons: "They could fill their stomachs with what they got from the fields" says one narrator (Ethiopia 12); another claims: "One used to harvest 30 to 80 donkey-loads of yield from one farm" (Ethiopia 14).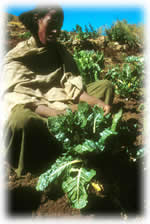 The declining productivity of the land is an overriding concern: "Today the land has become like leather, it gives no yield" (Ethiopia 3); "Now.what we produced this year could not even feed us until June or July" (Ethiopia 12). Among the traditional crops grown are wasera, sorghum, linseed, wheat, peas, beans, lentils and barley - although several of the varieties of barley cultivated in the past have disappeared. Newer crops include dagusa (finger millet), coffee, hops, potatoes, lemons and bananas. In all cases, reasonable yields are obtained only through the use of artificial fertilisers, which are beyond the means of many narrators. Several people say that the changed environmental conditions have been accompanied by an increase in pests including Wollo bush cricket, army worms and locusts. The traditional method of destroying locusts was by beating them with twigs or waving cloaks. Now pesticides are supplied by the government's Agricultural Bureau but in insufficient quantities to solve the problem.
The more optimistic among the narrators speak of the benefits that agricultural extension workers and development agencies have brought them, including new agricultural technology, credit schemes, training in new farming skills and in methods of improving environmental conditions such as building terraces to control soil erosion. Irrigation is not universally practised; where it is, the benefits seem generally to be appreciated, although disputes over diversion of streams also arise.

top
quotes about agriculture
"If there were twelve plots of land owned by a family, six of this would be left fallow for a year since the crop from the remaining six plots was adequate for the needs of the family. Now we cultivate the same land over and over again and the yield decreases every year."
Yekaba, F/25, farmer/female head of household, Ethiopia 8
"In the past we used to cultivate mainly teff (staple crop), sorghum and chickpeas. In the lower elevations we cultivated peas, beans, barley and linseed. Now it is difficult to produce crops such as peas, beans, and lentils because they are attacked by army worms. Teff and sorghum are slightly better. Even sorghum is under attack by pests and also gives poor yield due to the failure of the rains."
Melku, M/67, priest, Ethiopia 17
"Our people are hardworking and have made a lot of preparations for irrigation farming, but the water dries up. Down there in the place called Warkaye, you find five to six thousand stems of coffee grown by irrigation and the farmers have got some benefits from them, but the water is now drying up. Had it not been for the scarcity of water, you can grow pawpaw, lemon, orange and banana here."
Yaregal, M/41, farmer trained in beekeeping, Ethiopia 19

top