RELATED THEMES
agriculture
communications
education
land
social relationships
OTHER LOCAL THEMES
culture and customs
economics
environment
family life
food security
gender
health
history
identity
justice and crime
livestock
migration
population
resettlement
social institutions
spiritual beliefs
traditional skills

BACKGROUND
introducing the area

development

quotes about development


key testimonies featuring development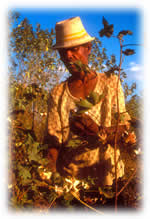 Although the severe problem of declining agricultural productivity combined with population pressure has given a pessimistic tinge to many accounts, some narrators are very positive about the development potential of the area: "Health stations and schools are being built in the Peasant Associations and gotts (hamlets). Veterinary services are beginning to reach our homesteads. With the participation of the community, feeder roads connecting the villages with the main roads are also being constructed. So these activities are facilitating the economic development of the locality... If [these].activities are stepped up and modern technology is applied to enhance productivity, we can achieve revolutionary changes within the coming 20 years" (Ethiopia 15).
Agricultural inputs are frequently mentioned but several other new development activities and services are mentioned, depending on the location. These include veterinary services, water- and windmills, water pumps providing clean water, and tree planting (mainly eucalyptus). As one explained: "The river is the same old one which our fathers were using, but now the ferenjis (foreigners) came and built a water-pumping motor here for us. They laid down water pipes and now we get clean drinking water" (Ethiopia 8). Improvements in health facilities are mentioned several times: "The health station built near our gate is giving us a lot of benefits. The malaria that used to attack is now being forgotten. Our doctor, Mulugeta, called us and took us to show us how the insect that causes malaria breeds and how to eradicate this. So, through our development activities, we have now become our own doctors against malaria and are destroying it" (Ethiopia 19).
Development agencies are also helping people to find alternative livelihoods to farming and have provided training in, for example, carpet weaving and beekeeping. A narrator (Ethiopia 21) explains that development schemes are administered at both the woreda and kebele level, with various project offices carry out training programmes in different fields. He also talks about the Amhara Development Association (ADA) animators and SOS Sahel workers running public meetings where they "transmit the directives from their organisations".

top
quotes about development
"I expect to see my children use the seeds given by the government and grow fruits and protect the forest and support themselves instead of working for others. I want to see them throw away these rags and wear better clothes, and live in houses with roofs of corrugated iron sheets. "
Itiye, F/58, traditional midwife, Ethiopia 14
"Terraces are built to reduce soil erosion. Springs are developed and maintained regularly to solve the problem of drinking water. Schools are expanding in the rural areas and people are becoming literate. There is also medical care now and people are getting cures for their ailments."
Belay, M/18, student priest, Ethiopia 6

top