RELATED THEMES
agriculture
community activities
development
economics
history
migration
OTHER THEMES IN SW COLLECTION
communications
culture and customs
education
environment
family life
food security
forestry
gender
health
identity
livestock
population
social change
social relationships
spiritual beliefs
traditional skills
water

THEMES IN NE COLLECTION
agriculture
communications
culture and customs
development
economics
environment
family life
gender
health
migration
social change

BACKGROUND
introducing the china collections

employment and income in the southwest collection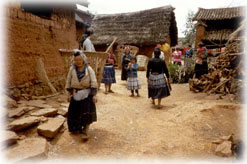 Employment opportunities are few and far between. One (Miao) woman is a doctor, which she acknowledges makes her a rarity; a couple of narrators work for Oxfam as agricultural extension workers; and one is the local "woman's officer", a government position that sometimes brings with it a small allowance. One young woman is training to be a teacher. She became a "substitute teacher" at her husband's school; "substitute teachers" are unqualified and they take up jobs when no trained staff are available - not uncommon in remote villages which are unpopular postings. Feeling "fulfilled" by her work, she says "I have enrolled for the distance learning course in Bama. I have to go there once or twice per semester" (China 3).
Several make the point that since economic liberalisation in China, opportunities to earn money have increased: they mention selling their distinctive embroidered and woven bags and clothing, and taking on building and repair work for example. Others mention cash crops such as tea and tobacco. One narrator (China 13) discusses the money to be made from raising silkworms. It is hard work, she says, and we don't have enough labour in the family: "Our children are all out studying, only two adults are at home. We need to find the fodder, to pasture the livestock, and to take care of the horses. We cannot manage all this… We have fewer people, we cannot afford to [raise silkworms]. People who have many labourers can do it. We have fewer people, we cannot do that."
So most income still comes from selling livestock and their small farming surplus. The fact that meeting school fees remains a problem for many families shows that incomes are often meagre. It's clear that most men have to migrate for work in the cities or over the border in Laos or Myanmar to supplement family resources. Some women do too, though one narrator (China 16) implies that some girls leave not just for economic reasons but because they think life will be easier: "On the one hand, [their] family's situation was difficult. On the other hand, they mistakenly trusted other people, who said you don't need to work [if you] live with the Han, you could just cook at home, knit sweaters, and you wouldn't get wet from the rain etc." She tells a cautionary tale of her sister, who wished she had never left: "[My sister's] life was difficult. Later, she came back and said she was wrong to listen to others."
A woman in one of the more remote villagers thoroughly approves of young women leaving for work "outside". "[Young girls] have gone out too. My daughter has gone out to work in Xiaoliangshan… In the past, she helped doing some housework. Now they are running a dance hall. Don't know if it goes well… She isn't doing big business, so she does not earn much money [to send to me]. [It's] good. [Girls] can gain experience. Life is easier and more relaxed, better than here" (China 26).

top
quotes about employment and income
"[My son] found a broken tape-recorder. He opened it and studied it, then fixed it again. Gradually, he mastered some basic things. He wrote to a factory and bought some materials and some spare parts… He studied slowly… He was thinking about strengthening his theoretical knowledge, but because the tuition fee was too high, he couldn't afford it. Finally, he said, 'Forget it. I studied by myself for several years and now I know how to repair [things].'"
Yeai, 52/F, Wa, China 9
"Well, yes, there are more ways to make money. Like my daughter-in-law, she often weaves bags to sell, and can earn 200 to 300 yuan a year. My son helps others to build houses; in one year he can have several hundreds yuan's of income! Money comes and goes. We make more money and spend more."
Erguai, 72/F, Wa, China 10
"If I went and depended on you (my husband) for my living, you would say I'm useless. I don't want to depend on you for my living. I work hard at home and earn more than you do as a cadre (government employee). Soya beans yield 250 kg and red beans 100 kg per year. Now the piglets I reared earn me 1000 yuan. A thousand yuan!"
Meixin, 45/F, Yao, China 2
"many [men migrate for work] such as building houses, digging roads… Those who [migrated] made money and sent some back to their parents. And their parents paid for others to help them in the fields here."
Ah, 22/F, agricultural extension worker, Lahu, China 16
"These apple trees are given by the government. We plant them but we don't have confidence that we can take care of them well… people come to pick up the apples... [Lowlanders] shouldn't pick our fruits, shouldn't plunder our place. They come and pick our fruits all the time… We Miao people are afraid when people come to ravage [plunder] [because] people beat you when you scold them."
Xiuzhen, 30s/F, Miao, China 13

top