RELATED THEMES
culture and customs
migration
social relationships
spiritual beliefs
traditional skills
OTHER THEMES IN SW COLLECTION
agriculture
communications
community activities
development
economics
education
employment and income
environment
family life
food security
forestry
gender
health
history
livestock
population
social change
water

THEMES IN NE COLLECTION
agriculture
communications
culture and customs
development
economics
environment
family life
gender
health
migration
social change

BACKGROUND
introducing the china collections

identity in the southwest collection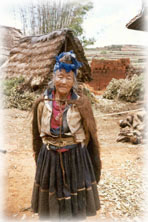 Many of China's ethnic groups live in the often mountainous border areas. This collection features narrators from five of the country's 55 minority peoples: Yi and Miao in Weining county of Guizhou province, and Luquan county of Yunnan province; Yao in Bama county of Guangxi autonomous region; and Wa and Lahu in Lancang county, Yunnan. All these minority groups have their own customs, practices and language, but as the interviews demonstrate, they do share some concerns, not least the struggle to maintain their particular identity and culture while taking advantage of China's economic and social reforms.
Low literacy levels and limited access to information in these highland communities, as well as residual prejudice against minority peoples, make life hard. Language can be a barrier to advancement too: "When people come to visit you can't just speak in the Lahu language, people cannot understand you," explains one agricultural extension worker (China 16), who feels strongly that her lack of education holds her back. Like many narrators, she remarks on how people (usually meaning the Han) live much better down in "the plains" and lowlands: "People who live on the plains wear better clothing; they have more access to outside information and have a better life. People who live in mountain areas, because they don't have access to information, they cannot see what others do well - they appear to be more foolish ..." Some narrators seem to have internalised the prejudices of the majority Han population, saying, for example, that their own clothes and songs are inferior. The same woman (China 16) explains that some young girls, such as her sister, leave the area to work with Han families, or to marry Han men: "they mistakenly trusted other people, who said you don't need to work [if you] live with the Han, you could just cook at home, knit sweaters, and you wouldn't get wet from the rain..." Her sister eventually returned, chastened by reality.
Despite facing varying degrees of hardship and prejudice, these narrators' accounts suggest most have retained pride in their distinctive customs and culture, and have a strong sense of identity. Weaving and sewing their distinctive traditional clothes remains a prized skill, for example. But these are time-consuming tasks and as the market economy increasingly affects people's lifestyles, some young people prefer to use the time to earn money and buy ordinary ("Han") clothes. One Miao male extension worker (China 18) disapproves of women making more than one outfit for ceremonial purposes: "…the materials cost at least 70 or 80 yuan. It costs more than a hundred if you include the manual labour… I always think that [making] these Miao clothes cost too much time… This lowers the living standard of the family. There is no money for emergencies, no money to spend on living. When one does anything, one needs to consider whether it can make money…" But his female interviewer, also Miao, makes the point that traditional craft skills can be an invaluable source of pride and satisfaction in lives that are otherwise filled with little but hard labour.
There is some talk of traditional rituals, particularly the Lahu practice of jiaohun ("calling the spirit"), through which ancestors' spirits or ghosts, who are troubling their surviving relatives, are persuaded to leave their families in peace, as well as festivals and folk songs. One elderly narrator (China 15) is full of information on Lahu customs: "I saw how the old people did it; then I added in some of my ideas… I learned to follow. [People] have to learn [such traditions] by themselves… All my children and grandchildren - they saw and have learned…" Other women suggest that young people are beginning to lose the skills and knowledge needed to perpetuate these customs.

top
quotes about identity
"We Lahu people have had no chance to receive education, we cannot read newspapers and we don't know about the farming experience of other places. As for the technical training, we could only understand some of it… we all have low literacy."
Ah, 22/F, agricultural extension worker, Lahu, China 16
"We Miao people live in remote and backward mountain areas. Although we have had some development in these years, there is still a big gap between us and other peoples… Throughout history, Miao people have had less power."
Mingchun, 27/M, Oxfam extension worker, Miao, China 18
"Han people are just like what they sing in their songs: if you work hard you can have food to eat. It's good if we can live as well as the Han do… Han songs are better than Lahu songs. I love to sing Han songs."
Ah, 22/F, agricultural extension worker, Lahu, China 16
"Han people pay more attention to eating and clothing. And when women bear children, the men kill chickens, and do all the cooking and washing. Women need not go outside [to work] before the confinement month. Not like us Wa people who go to work only a few days after the child is born. We Wa people are worse off than Han people in this respect."
Erguai, 72/F, Wa, China 10
"[This] is the place for burning joss sticks…to the god of your house. This ritual is passed on to us from the older generations… Even when we have no pain and no disease, we still have to burn the joss sticks in the direction of sunrise. All the traditions passed on by our older generations - we have to maintain them…"
Natuo, 80/F, Lahu, China 15
"Now the price of thread is very high, and most people wear Han clothes. Han clothes aren't as warm as Lahu ones. The old generation wears only Lahu clothes. [They] are better than the Han's. If you wear [a Lahu garment] and go to plant rice seedlings, it keeps your knees warm."
Natuo, 80/F, Lahu, China 15
"Yi nationality [and the Han]? All are the same. My family accepts marriage with your [Han] family. My younger brother's wife is a Han… And our uncle, and our children's uncle. The aunt is a Han… What's the advantage? The children are cleverer."
Zhonglan, 40/F, women's officer, Yi, China 25
"One [custom] that I have spoken of just now is to call the spirit for sick people. Another one is to make happiness. One kind needs four people singing together - they sing when people die… to bring back the dead person's spirit."
Natuo, 80/F, Lahu, China 15
"My elder brother…wrote a thesis in Miao characters. He wrote a novel in Miao characters… all my sisters know Miao characters. So we never write letters in Han, because in Miao characters, we can write well and smoothly."
Xuefeng, 41/F, doctor, Miao, China 12

top