RELATED THEMES
gender
social relationships
OTHER THEMES IN SW COLLECTION
agriculture
communications
community activities
culture and customs
development
economics
education
employment and income
environment
food security
forestry
health
history
identity
livestock
migration
population
social change
spiritual beliefs
traditional skills
water

THEMES IN NE COLLECTION
agriculture
communications
culture and customs
development
economics
environment
family life
gender
health
migration
social change

BACKGROUND
introducing the china collections

family life in the southwest collection

quotes


key testimonies


family life in the northeast collection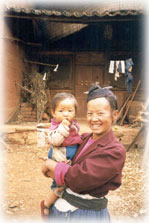 These interviews have a lot of material on family life. This might be because almost all the narrators are women - and in particular women who take on most of the responsibility for family welfare because so many men migrate away for work. But it may also reflect a society in which family ties are still very powerful, and in which relatives are often the primary or only source of practical and financial help. Sometimes such obligations are ruinous: one woman (China 9) describes how she felt obliged to look after the father who had abandoned her as a child. "… my dad, who had run away and left my mum and I when we were [poor and] short of grain, would bring back the children he had with his second wife… he had no place to go, and could only come to live with me. Both eating and living were difficult. The grain my husband and I worked hard for throughout one year was all consumed…". Her own family ended up having to resort to digging up tree roots for food.
Narrators' descriptions of family life do not present a universally happy picture. Many narrators seem to have difficult marriages, though people rarely resort to divorce: "[People] will usually say that they want to divorce but never put it into action. People seldom really get divorced. When it's too difficult to live together, the woman may ask for divorce. If the man doesn't agree, the woman will run away" (China 16). Complaints against husbands range from insensitivity and "stupidity" to alcoholism and even violence. In fact, domestic violence does seem to be a significant problem in these communities; many narrators have some experience of it. There is an interesting discussion between a male Oxfam extension worker (China 18) and his female interviewer - both Miao - in which the former appears to downplay the extent of the problem: "There are many things to quarrel about in a family. Only through quarrels can things be done (can consensus be reached). Otherwise, you do your thing and I do mine... quarrels are normal things."
A few women also say that they suffered discrimination from their fathers, who seemed quite open about favouring their sons. And a couple of wives describe quite harsh treatment from a mother-in-law who clearly takes her son's side whatever the situation. By contrast, most narrators talk with great affection of their own children - boys and girls - and are obviously prepared to work long and hard to give them all the opportunities they can. Overall, the impression is that poverty and grindingly hard work is the cause of most of the strain on family relationships. There is one disturbing interview with a very unhappily married woman (China 11) who is extremely dismissive of her husband. It is clear that much of her unhappiness and his frustration stem from being childless (a source of deep shame) and poor - and equally clear that the couple have no way of communicating with each other to lessen each other's misery.

top
quotes about family life
"That's the old custom [that the eldest son must take care of the parents]. Now it's common that one family has three to four sons. All the sons share the responsibility; each son's family supports [them for] one month. If not, the elderly parents would live with the family which took over their land… Our family has four brothers. The house was given to the eldest, the lands were given to the youngest… so his family is responsible [for] the old people.. We - the second and third ones - didn't want anything… We want to build up our lives by our own efforts."
Guangzhen, 45/F, Yi, China 24
"I don't know what's wrong these days. We old women chatted and found that everyone has been beaten… There are many men - Miao, Han, Yi - all beat [their wives] when they get drunk."
Xiuying, 34/F, Miao, China 11
"It's rare that young people lack a conscience, very rare ... Like in our village, there wasn't a single case where the children didn't support their parents. If the parents are alive, the fields are all farmed by the sons. When harvested, they'll carry the grain to the parents' place, they won't carry it back [to their own] home."
Xuefeng, 41/F, doctor, Miao, China 12
"Mingchun: Cases [of wife-beating] exist. Around 0.3 per cent [of households]. The proportion is small. There are only one to two cases in a hundred households.
Xiao [interviewer]: But in the interviews I conducted today, the women didn't say it was like that! The women said that in 60 per cent of the families the husband beats the wife. Another saying is that there is probably 80-90 per cent. That's a big difference to what you said. Is it because you are a man in this village and you want to protect the men?"
Mingchun, 27/M, Oxfam extension worker, Miao, China 18
"At that time, I thought about getting a divorce but did not dare to ask. Usually we Wa people do not divorce easily. Once a woman wants to divorce, she will get herself into trouble - because unless you had affairs with other men, or intended to go with other men, they won't resolve it for you."
Erguai, 72/F, Wa, China 10
"[Intermarriage?] It depends on the feeling of liking between two people, it doesn't matter whether they are Miao, Yi or Hui (one of the largest minority groups, Muslim)… Now young people have a wider acquaintance… The kids in the village go from this village to that village… Now many people get to know each other on their own. There is no arranged marriage."
Guangzhen, 45/F, Yi, China 24
"In the past, in my man's (husband's) time, we were arranged. Whichever family had a good girl who was spotted by a boy's family, the elderly of the boy's family would make a grab [for her]… [It's called] qiang qin ('snatch marriage'). Now you need to get the consensus from both sides."
Dingzhen, 54/F, Yi, China 26
"For some nationalities, even if the old partner is not alive, [elderly parents] are not allowed to re-marry. Their children don't allow [it]… But we Miao people want to find an old partner for him/her… [otherwise] they will live a very lonely life… Of course it's impossible for people in old age, like over 70. But aged between 50 to 60, it's still possible to find him/ her an old partner…as a companion."
Xuefeng, 41/F, doctor, Miao, China 12
"If the family is united, a big family is good. Some members can do field work, some can cook at home, some can pasture the livestock. But it doesn't rely on one person's thoughts alone (meaning this is a joint decision)."
Dingzhen, 54/F, Yi, China 26

top