RELATED THEMES
agriculture
community activities
education
family life
social relationships
OTHER LOCAL THEMES
compensation
culture and customs
development
economics
employment and income
environment
environmental knowledge
health
history
justice and crime
land
livelihood strategies
livestock
migration
resettlement
social change
social institutions
spiritual beliefs

BACKGROUND
introducing the area

gender

quotes about gender


key testimonies featuring gender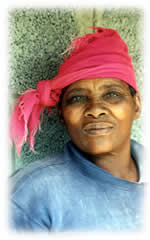 At the household level the picture that emerges is one of contradictions in gender relations and ownership, control and disposal of property. A number of women point out that the choice of where to relocate was the husband's; in some cases the husband had not even discussed the decision with the wife. The LHDA did not consult women about the resettlement process unless they were the head of the household. One 48- year-old explains that she left all the responsibility of a choice of a new place to her husband because she, along with the offspring, were "like children, children truly" (Lesotho 18). Asked whether she knows why he chose the new place, she replies that she does not, adding "...perhaps he has been there and the life of there he saw it, he saw how it was like, I do not know; we are just running [after him]."
Yet this same woman speaks of her husband having gone out to herd her animals and reveals that earlier (before the Highlands Water Project made resettlement obligatory) she successfully blocked a plan of her husband's to have the family move away from Molika-liko. And, in testimony 6, a former chief who is unable to answer several questions, suggests that the interviewer ask his wife instead, who has been officially appointed to take on his role. When she takes over the narration, her answers are much more authoritative and informative. Despite the presence of a female chief, the "democratically elected village council" seems to consist of men only.
Several interviews contain information on the gender division of labour. Men and boys milk cows, plough the fields, cut grass, look after animals and weave hats; women and girls draw water from the wells, prepare meals, do hoeing and weeding, collect wood and dry dung, plaster the walls of houses, cut grass for roofing, and weave items from grass. In addition several men and women are involved in various forms of petty trade both within and outside their communities. During the time when many men were working in the mines of South Africa, women's roles and responsibilities in the household increased and the dynamics of many a relationship were significantly affected. These changes, combined with long periods of separation, put a strain on many marriages, but these interviews do not specifically address this topic. It should be noted that most of the women narrators were interviewed by men, a factor that will have influenced their responses as well as the range of topics discussed.
Several narrators express concern that widows especially will face a hard life when they move, inevitably losing some of the informal support that friends and relatives currently supply.

top
quotes about gender
"[Being a woman] I feel that it is difficult. It is a hard life, much harder than when I was a child. When I was a child, I did not have many problems that I am thinking about... They are many I agonise over. If there are no matches they ask me for them, if there is no soap they asked me for it, when the children are hungry they want food from me. You hear that it is a lot of difficulties."
'Malibuseng, F/32, Lesotho 9
"I can explain ntate. The mother used to listen to the father and they arranged matters with him well of their family. But nowadays when I look at the things that happen in the world, these ones of today they are no longer reprimandable as women. The mother-in-law when she tries to reprimand her, she puts her luggage on her head she goes to work. In fact it is not many who endure marriages, the women of today."
Thabo, M, Lesotho 25
"...when people get up in the morning they perform their different tasks. Girls, before going to school go and draw water from the wells and the boys milk the cows. The women prepare breakfast before going to the fields and the men usually meet to discuss politics and then go to the fields."
Makibinyane, M/40s, Lesotho 3

top