RELATED THEMES
gender
health
OTHER THEMES IN SW COLLECTION
agriculture
communications
community activities
culture and customs
development
economics
education
employment and income
environment
family life
food security
forestry
history
identity
livestock
migration
social change
social relationships
spiritual beliefs
traditional skills
water

THEMES IN NE COLLECTION
agriculture
communications
culture and customs
development
economics
environment
family life
gender
health
migration
social change

BACKGROUND
introducing the china collections

population in the southwest collection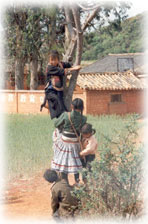 A number of older women say that their generation had a much tougher time than mothers today, not least because of the lack of birth control. "Today's women, from courtship to marriage, and when they have children, are much happier than us. Their health should be better…" says one 70-year-old (China 10). She continues: "[In my day] people kept having children till they got a son. If family planning had been promoted in our time, how nice it would have been! The women of our time diced with the god of death, it was too horrible. Now people cannot have more than one or two children. They eat well and dress well. When they [have children], they…still look like a young girl."
Although birth control is clearly welcome, most of the women interviewed do not seem to have been subject to the policy of one child per family. One woman says: "[Here] no enforcement of family planning has been carried out in recent years. Transportation is not convenient. When the government officials of the family planning committee came, people would run away" (China 25). It seems that in minority areas, people are mostly allowed to have two children, especially if the first one is a girl. The testimonies indicate that even this number is not rigidly adhered to, especially if the pressure is on to produce a son, although there is talk of fines for exceeding the quota. The same narrator comments: "[How many children is best?]… two to three, at most four. We all said that if we have too many we cannot afford it. It's enough that you can bring up these and nurture them well. [But] there are still some people whose mindset hasn't changed. They have five or six children, or even six or seven." One narrator said her mother had seven children, pressured by her husband and mother-in-law who were desperately keen to have a boy.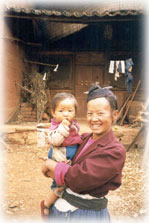 The details of family planning regulations appear to differ slightly in cities and in rural areas, as well as between different counties and provinces as local governments are given flexibility to carry out certain policies according to the local context. Sometimes this flexibility has a more human face, as this disabled narrator (China 14) explains: "When I had my second child, the interval [between the children] was not enough [according to government policy] and my body was not like the others. The doctor asked me to have an abortion. It was the village leader who allowed me to have a second child… [He] said, "We would not agree if it was somebody else. But because you are handicapped, we agree for you to have another child."
Some people express real concern about the increasing pressure on mountain resources as a result of population growth, even though large families no longer seem to be the norm. For as well as bringing improvements to women's health, smaller families reflect people's desire to educate their families - and the financial burden this entails.
Several narrators describe how childless couples have adopted babies from siblings who have exceeded their quota. For one woman (China 14) this greatly eased the heartache and stigma of being infertile. Sadly, the child later died. It also seems that some families are forced by poverty to give away a child, not always to other family members; this practice is mentioned several times in the Northeast China collection.

top
quotes about population
"People like us who have gone through the [family planning] operation have three or four children… when they asked us to do it, we thought it through and agreed. What's the advantage of having more? Apart from anything else, we cannot afford one pair of shoes for him... We see others bringing up 10 children - we also wanted to have more, but we cannot afford it."
Zhonglan, 40/F, women's officer, Yi, China 25
"In the past the government didn't have any [population] control, all people had so many children. There are not so many since it's been controlled [by family planning policy]."
Meixin, 45/F, Yao, China 2
"I did nothing [for contraception]. I may put in an IUD later. Now the workload is heavy [so I am unlikely to conceive]."
Nala, 30/F, seamstress, Lahu, China 14
"That's the old custom [that the eldest son must take care of the parents]. Now it's common that one family has three to four sons. All the sons share the responsibility; each son's family supports [them for] one month. If not, the elderly parents would live with the family which took over their land."
Guangzhen, 45/F, Yi, China 24
"The government has announced that close relatives cannot get married, [because] it'll be harmful for the future children. If you don't listen to this, you'll be fined. People are afraid of being fined. Of course, there are still some people who don't listen to it and insisted on getting married…It's [also] advocated that if you get married at the proper age, the child you have in the future will be strong; otherwise the child will be weak, not healthy."
Ah, 22/F, agricultural extension worker, Lahu, China 16
"People in this village look down on me [for being childless], and my family looks down too. We two often quarrel because of this… What [the family] said everyday is that I have no child, and I'm not as good as the other people… I think it's better to have a child, so that the people in the village won't bully [me], and the family won't have fights."
Xiuying, 34/F, Miao, China 11
"I lost my temper… I said, 'I bore so many children and I haven't had a chicken to eat, or an egg to eat… I said to my husband, "This is the last child I give to you. There will be no more born! I don't want any more even if they don't give me sterilisation!' …I didn't want any more. What's the benefit of having children? I haven't had any good things to eat and could not sleep."
Meixin, 45/F, Yao, China 2

top