family life in the northeast collection

quotes


key testimonies


family life in the southwest collection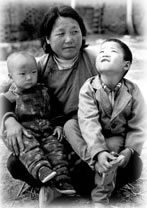 Discussions about marriage, children and family relationships make up a large part of the testimonies. Among the women interviewed there is a diverse range of marriage arrangements. One woman (China 35) describes how she was lured away from her village in the south and "sold" to her current husband in Huanglongsi (an arrangement that luckily seems to have turned into one of the happiest marriages of these narrators). Another (China 34) explains how she was involved in "buying" wives for her sons (she describes one as "too stupid and too poor, and also ugly - although he worked well"). Two women (China 33 and China 40) were involved in huanqin (exchange) marriages: a daughter from one family marries a son from another family and in 'exchange' a daughter from that family marries a son from the first family. The mother (China 34) of one of them explains the background: "[My daughter Fengxian] agreed to such an exchange marriage for [the sake of] her second elder brother… Our neighbour said, "Your son can't afford to get married and [without a wife] no one will look after the old people (parents). Let Fengxian get married to exchange a wife for her brother in return, and also to find a person to look after the old people in the future."
Although one narrator (China 30) says that divorce is rare in the rural mountain areas - "Perhaps people are still feudal-minded (old-fashioned). They would rather live unhappily together than divorce and lose face before others" - an older narrator (China 34) describes how she divorced her first husband because he treated her so badly: "It was I who demanded a divorce. I didn't want to live with him because he swore and beat me everyday." She also explains that her marriage was not arranged, which was unusual at the time but her parents agreed to her choice of husband.
People embrace their filial responsibilities and respect their parents: "People here are all filial to the elders" (China 37). "The elderly help in the fields…." but "…will be taken care of when they cannot work any more" (China 37). Unless there is only one son, or the parents become ill, "families with several sons will divide up…" (China 38) and establish separate living arrangements. Strong expectations remain despite the physical separation, and sons are required to provide some money and food to their parents on a regular basis. The fear of social disapproval runs deep. The husband of Diao'er (China 38) is an adopted only son. Although she did not get on with her in-laws, she resisted their desire to split the family: "Actually I did [not] want to do this, so the first three times when the question was put forward, I did not agree. We were afraid that other villagers might blame us for not being filial; for trying to avoid the responsibility of taking care of the elders because my husband is an adopted son. My husband knelt down to beg them not to divide up the family, otherwise others would laugh at us, but they insisted. So we had to."
Adoption is mentioned several times, and primarily seems to have taken place when a family could not afford to bring up all its children. Mostly the adopted children are very young, but one young woman (China 39) takes the initiative to leave her parents and live with her grandfather and uncle: "…to tell the truth we [her parents] were reluctant to let her go. But since she had offered to go, which was really very good-hearted of her and we did appreciate that, and we agreed." The problem of too many children for the household income is clearly less acute with the availability of birth control. There are several references to population policy. Since 1991, a family is allowed to have two children, with at least a five year gap between them. If the interval between the two children is not long enough, the family can be fined. All parents express concern about their children's future and attach great importance to their success. Several hope that their dreams for a better life will be realised by their children: "I wasn't able to go to school. I can't leave those memories behind. Now I place all my hopes on my children. I often say to them, "If you can't become useful persons you should blame yourselves. You are our hopes"" (China 31).
The narrators' accounts suggest that good social networks are vital - many point out that the only way to get loans is from family and friends, not from banks, and that personal contacts are also vital for getting work in the cities. One woman (China 38) highlights another variant on the importance of family contacts: "…things will be especially difficult if you do not have anyone who cares for you in the leading group of the village. My family do not have any relatives among the [village] leaders, so good things never come to us."

top
quotes about family life
"Many people in the village don't have any sons. There are 14 or 15 families that only have daughters. You can't have some [more] children even if you want to, because there is the policy of birth control. People won't take it to heart. They don't want to have lots of children."
Cuiying, F/41, China 33
"One of my brothers got married on condition that I marry his wife's brother… I had no choice. My mother was sad, because my brother couldn't find a wife. We were poor at that time. I wouldn't have done so if it had been five years later. He might have [been able to buy] a wife."
Cuiying, F/41, China 33
"My husband's father and mother are still well…They live on their own. They are able to cook meals and do farm work. They have five sons…We send the old couple some meat every year. They plant crops themselves. Every son gives them 10 or 20 yuan every month. The amount depends on how much each family earns."
Cuiying, F/41, China 33
"[Who are capable women?] Women who can keep good relationships with others, women who take good care of their children and who are filial to the old."
All, F, China 38
"Later I was married; my brother-in-laws served as the matchmaker. I was 17 years old then; I didn't know anything. I went with them when I heard I was going to my husband's family. I didn't want to go, but it was no use; I was obliged to… The adults [forced me to do it]. I didn't know until I arrived there on a donkey. It was in the second day of the first month in the lunar year. I wore two brightly coloured pieces of clothing, but they were poor in quality. The clothes were bought by his family. My family was too poor to buy clothes for me."
Shuqing, F/62, China 34
"[The relationship with my in-laws is] not very good. Actually the problems are not from my husband's family, but from the relatives. They step in whenever something happens. They always accuse us of not treating my parents-in-law well enough, always try to find fault with us. Sometimes I feel so disturbed and angry I go back to my mother's home for a few days, which is not far, in the same village."
Diao'er , F/28, China 38
"I set up my family in this way. I asked my husband, 'Do you know what love is?' He answered, 'I don't know. I am a peasant. What I know is that we ought to bear sons and daughters. What use does love have?' I was very angry and said, 'You fool! How can we set up a family without love? We should understand each other and love each other. This is love.'"
Fengxian, F/?, China 40

top