RELATED THEMES
community activities
development
economics
environment
migration
water
OTHER LOCAL THEMES
communications
conflict
education
employment and income
family life
festivals
gender
health
identity
justice and crime
politics
social relationships
spiritual beliefs

BACKGROUND
introducing the area

agriculture

quotes about agriculture


key testimonies featuring agriculture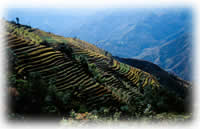 Many speak of how improved methods, irrigation and chemical fertilisers have boosted yields, although some disadvantages are now becoming apparent: some crops are more prone to disease; more inputs are needed as soils become exhausted; inputs are increasingly expensive. One narrator says that because everyone in his family works hard there is sufficient to eat; another that having enough to survive on depends on not being extravagant and compares his own caste - Tamang - unfavourably with Chettri and Brahmin. There is concern, though, that people have to rely more on buying food from elsewhere as the population is increasing and there is more pressure on the land. In the recent testimonies (Nepal 24-32), several say that the Maoist insurgency has had a negative effect on production, as "able-bodied" people flee the villages or join the rebels, and development programmes are disrupted.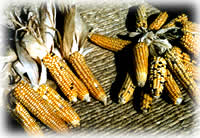 High-grade seeds are mentioned as having been introduced from India (no one raises the question of conserving indigenous varieties). Training provided by development agencies and government extension workers is helping to spread new farming skills and techniques. "About 40-45 years ago, we didn't know the better way of planting crops, so we had to starve from Falgun to Chaitra (February to April). We had to get the food from the sahus (moneylenders), but now we have learnt from [ActionAid] the importance of organic manuring which has improved the yield, so now it is enough for us for a year" (Nepal 13). Several people emphasise the need for markets to sell their produce and see this as a priority for government support.
Many farmers work steep slopes and the terracing needs constant maintenance. Some farmers have only recently introduced the practice, to great effect: "...there is a marked improvement in our income and living standards. Terracing has led to an increase in crop yields. Without levelling the land, you couldn't grow vegetables" (Nepal 22). Irrigation is said to have boosted production significantly, especially of vegetables, but the extra harvests have also increased women's workloads, since many of them work the fields alone while their men find waged work elsewhere.
Other concerns are that the climate seems to have become more erratic and that with the increase in population more cultivable land is being lost to housing and other development. One narrator (Nepal 7) describes graphically the difficult work of clearing the "jungle" for cultivation; tasks like this and harvesting are still undertaken communally where possible. Male migration and displacement as a result of the Maoist conflict has disrupted some communal practices.

top
quotes about agriculture
"Many have started planting mustard and wheat. In the past, there was no practice of cultivating mustard and wheat. Before, they sowed only maize and barley. [and] millet. Now everyone has stopped planting millet. it's good for the diet, but it is full of problems. Without family manpower it is difficult to plant millet. Present day children do not even want to eat millet porridge. These days, kids say millet porridge is chicken manure. They want to eat rice only.People have given up eating barley, too."
Sanumaya, F/47, Nepal 31
"[We grow] maize, millet, wheat, barley, but no rice. But at the side of the stream rice can be grown. We are also trying to grow paddy on the riverside.. In the old days, we would get more maize compared with the present. Now it has decreased. Eight, nine, years back, from one hal melo of land we would get 15-16 doko (large baskets) of maize. Nowadays, we get only 8 or 9 bhari (loads) of maize. Sometimes we get 13-14, if the crops grow well. Millet grows well sometimes. It depends on the weather and the land. But maize and millet yields are less than before."
Mani, M/23, Nepal 4
"At present we are in a good condition. Everybody works according to the routine that's why we don't have a problem about how to eat. But in some families, members are 10 to 15, but they can't manage the work properly. They work as a labourers but don't get enough to eat."
Mani, M/23, Nepal 4
"It seems like the chemical fertiliser has used up all the power of the soil, so if we do not get the fertiliser in the future maybe everything will die. In the olden days we had never heard of diseases but after the use of chemical fertiliser there are lot of diseases. We didn't know about the pump and the medicine, we didn't have to use them. Now with the effect of chemical fertiliser, the plants grow fast but the insects attack them."
Ram, M/53, Nepal 17
"In those days we used to cultivate crops two times a year, but nowadays because of development we cultivate crops three times in a year. Because we have more facilities, such as irrigation in our fields."
Ram Bahadur, M/48, Nepal 2
"No, only radishes, rayoko saag (broad-leaf spinach) were planted in olden days. Now some garlic, onion, coriander, cauliflower, potato, are all grown. Tomatoes, chilli, cauliflower, spinach, garlic, onion - all grow here if planted. Before, due to water problem nobody was interested in growing vegetables. With piped water coming to the village it is easier now to plant vegetables."
Sanumaya, F/47, Nepal 31
"Those who have less land go and work for wages. In [the months of] Asaar, Srawan and Bhadra, they go to plough the fields, to cut the paddy in Srawan and to plant millet after finishing their work in their own land. Mostly the poor work for wages, like in Asaar, if they have less land they finish the work and go to others' fields, in Bhadra to weed the fields and to cut the paddy. Then in the time of wheat plantation people need help in the big lands so the people work in such places for wages."
Tara, F/25, Nepal 15

top