RELATED THEMES
conflict
social institutions
OTHER LOCAL THEMES
agriculture
communications
development
economics
education
employment and income
environment
family life
festivals
forestry
gender
health
identity
justice and crime
livelihood strategies
migration
social change
spiritual beliefs
tourism
traditional skills
water

BACKGROUND
introducing the area

politics

quotes about politics


key testimonies featuring politics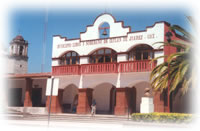 Individual communities of Oaxaca manage their internal affairs according to their "usos y costumbres" (usages and customs). Central to these communities' organisation is the cargo system, under which members undertake a series of community positions, embracing both civil and religious responsibilities, usually lasting a year or so. There are more cargo positions at the lower level, and several narrators mention taking on some of these when as young as 14. Higher up the system, there are fewer positions, and only a handful of men undertake these. Although these positions are unpaid and therefore usually involve some personal sacrifice, most narrators still believe they are fundamental to community functioning (Mexico 15): "One of the things valuable to the community is its customs, and own style of self-governing. This is the foundation for the strength of the village." The obligation to perform tequio, a form of communal labour for specific tasks of benefit to the wider community, is also still widely approved of in principle.
A community leader in Yavesía (Mexico 15) describes the decision-making process: ".the community and municipal authorities are elected by the ciudadanos, the commoners. It isn't like other places where political parties intervene, or where authorities of the state or of the Procuraduría Agraria (government department in charge of resolving community land conflicts) intervene, delegating the cargo of the comisariado (community official) [ie to someone they "appoint"]. The community has matured a lot in this aspect and appoints its authorities with true democracy. Asamblea (community parliaments) are held in which there is an open vote.and no one gets heated about one situation or another which could lead to trouble."
Thus community officials form the backbone of local organisational structures, maintaining law and order and deciding, for example, which initiatives are carried out as part of tequio (obligatory, unpaid community work): "Yes, [the authorities co-ordinate the work].for example. [when] we have to clear the roads, everything" (Mexico 9). Decisions made in the asamblea, the community assembly or parliament, made up of members entitled to vote, are generally treated with respect, explains a narrator in Tiltepec (Mexico 9): "We. made an agreement to open a new road to [La Punta] so we can do our shopping there... Yes, that's what we agreed and. well, it was made in a meeting so I respect it, because it was in a meeting. It's not like it was [made] in a bar..."
One narrator (Mexico 15) highlights a disadvantage with the cargo system: the short mandates of community officials: "If I had the opportunity to make a change, I would propose that the cargos of the municipal authority and of comisariado (community official) last six years, because as it is now, the municipal presidency is just one and a half years.". Short appointments of one or two years are not uncommon in the region and are seen by many as causing discontinuity and over-frequent reviews and changes of direction in community affairs. The same narrator continues: ".if one tries to do something, a job, an improvement for the community, well, it can't be planned properly, all the needs of the community aren't understood, things are done in the short term."
One narrator in Ixtlán (Mexico 15) explains the difference between an elected position, a cargo, in the municipal office and a cargo in the community: "The difference is that the municipal is responsible for seeing to everything that is in the district capital, taking into account and organising everything in all the municipal agencies and there are 12 [in Ixtlán de Juárez]. Unlike the comisariado de bienes comunales (office responsible for community property) which is exclusively for the community; to manage public properties, to survey community land, to watch over the business, or businesses that a community has, whether it's the community transport, or minibus, or petrol station."
Agrarian politics in Mexico, after many decades of land reforms and transformation in the country, remain complex. The securing of legal land title for the community of Tiltepec does not avoid a dispute with its new neighbour La Luz, whose members are intruding into Tiltepec's territory (Mexico 1): "Before there weren't documents like now; now we have the resolución presidencial (legal recognition of land). What they made was a cloth, that they called 'map' in their language.but in Spanish it's called lienzo (literally, canvas, Lienzo de Tiltepec). This was their documentation, which was very valuable for defending their property and their borders in the forest . well, it isn't enough any more."
Yavesía also has a long-standing dispute with its neighbouring communities, Amatlan and Lachatao, over whom Yavesía is trying to assert its status as an independent municipality (Mexico 12): ".maybe the main problem.has been a. division. between. us who are in agreement that Yavesía has its own land and is recognised as an independent municipality, that its community decisions are respected - and those that.have said that no. that we are part of three municipalities that share land."
Yavesía has previously been drawn into patron-client type politics in the state capital (Mexico 14): "we had to oppose those not attending the meeting (ie urge everyone to attend) with the Governor; at that time the Governor supported these communities." and since, it seems, has chosen to follow legal processes: ".let's hope [the dispute] doesn't take any longer, that it's resolved right now, the majority are in favour, here internally as much as in Oaxaca, Mexico.It's good that the authorities are beginning to take notice of us because for a while the people of Yavesía were forgotten in Oaxaca, in Mexico, and that's the worst that can happen."
Some narrators are aware of the roles of federal authorities at state or at national level: "we've gone to Oaxaca and Mexico City, mainly to the government institutions PROFEPA (Environmental Protection Agency), SEMARNAP (Department of the Environment, Natural Resources and Fisheries)" - and of the degree of influence they can, or cannot, bring to bear ".But I think that they don't want to get involved with problems or that they aren't capable. They haven't been very clear sometimes; they haven't been very exact in giving their point of view" (Mexico 14).

top
quotes about politics
"When the village takes a decision and assumes responsibility, it is because we are [all involved], everybody. The responsibility doesn't fall on any one [alone], we all assume the responsibility - this is the most important thing. It's not the same as you being presidente (highest authority in the municipality) or manager or ciudadano X ("citizen X") taking a decision. with the community asamblea, well, we all assume the responsibility for what may come, whether it's good or bad. I think that this is the best thing."
Mario Fernando, M/36, community manager, Yavesía, Oaxaca, Mexico 12
"So the election came and they chose from people who were mature because to have the cargo of representante is very difficult because you have to know a lot. So three older men were put forward [as candidates]. Well, the asamblea general (community parliament) denied them because they said that they were 'spent cartridges', as is rudely said. So after that they said that a young person should be chosen.Well I didn't flatter myself but then they nominated me to be the communal representante (responsible for community property). Well, people, with the confidence they have had in me up to today, voted in favour of me. the cargo was given to me at almost 24 years old."
Mauro, M/28, representante communal (official responsible for community property), Yavesía, Oaxaca, Mexico 14
"My father and my brothers worked only on communal land. We had to submit an application for one hectare or whatever size we wanted. to the comisariado de bienes comunales. After they had considered it, we could work, cutting down the trees to prepare the soil [for planting]."
Modesta, F/66, flower grower, El Punto, Ixtepeji, Oaxaca, Mexico 28

top