RELATED THEMES
agriculture
culture and customs
environment
health
land
resettlement
social relationships
OTHER LOCAL THEMES
community activities
compensation
development
economics
education
employment and income
environmental knowledge
family life
gender
history
justice and crime
livelihood strategies
livestock
migration
social change
social institutions

BACKGROUND
introducing the area

spiritual beliefs

quotes about spiritual beliefs


key testimonies featuring spiritual beliefs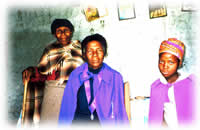 Both Christianity (specifically, membership of the Roman Catholic Church and the Lesotho Evangelical Church) and traditional beliefs are mentioned. One narrator says it is only old people who go to church nowadays, but many narrators show a strong sense of the presence of God. One resident says that the soil of Molika-liko "has been fertilised by God" (Lesotho 19); another attributes the deterioration in the community's quality of life to offences against God: "We have wronged our God somewhere, through our deeds on earth, because we do too many wrong things."
Of central importance in the spiritual life of the community is the "presence" of the ancestors and the continuity of relationship between the living and the dead. Some residents ascribe a divine character to the ancestors, suggesting that those who have died before them have now become "gods": "The gods are useful in the lives of people because they are people who maybe we can say they know, they have power over the lives of people who are still living although they themselves have died." (Lesotho 19b). (Several narrators indicate that the decline of initiation ceremonies may anger the ancestors/gods). More generally, the relationship between the living and the dead is seen as reciprocal: people refer to talking to their ancestors and to the ancestors asking things of them. Some mention a way of "praying" to the ancestors by preparing feasts for them but say that the custom is no longer common.
Ancestors collectively represent social order and harmony, and to ignore them or disobey the values they represent is to court misfortune. Thus there is great concern about what will happen to the graves of the ancestors when the area is flooded. Some fear that their ancestors will turn against them for allowing them to be submerged and also that, if abandoned, they will poison the water. LHDA has promised to take care of the graves and ensure that they are transferred to appropriate sites, but many are not marked or named. One narrator proposes that all graves, known and unmarked, should be moved to a central site to avoid the risk of any being left behind. It is clear that nothing LHDA does, however well-intentioned, will compensate for the sense of violation that people feel on their ancestors' behalf.
The extent to which people believe in spirit possession and the efficacy of traditional healers' methods varies; there is clearly a fair amount of scepticism although some firmly believe in the power of witchcraft and its widespread use. As one narrator asked: "When you see people who even know how to stop the rain and make the sun stand (cause drought), now would you say that as for sickness they cannot bring [it] in?" (Lesotho 15)

top
quotes about spiritual beliefs
"Here where I have built is a place where I have lived well.... I was ploughing, I was eating and getting full in the stomach. [.] I was getting wild vegetables that have been created by God on the ground and I was being full in my stomach."
'Maseipati, F/elderly, Lesotho 12
"[What I shall miss] is the graves which I see that we are going to be separated from and leave [behind]. Even the [dead] are going to rise against us and say "You leave us here, so we could be [smothered] by water?".... The [dead] will smother me, because they would be saying I left them to be smothered by water."
Tlali, M/elderly, Lesotho 7
"[Graves] have a great significance, because when we dig for a person there we do not go where it is muddy, we look for where it is dry, while at the same time examining that house (the grave) to ensure that it is standing well; yes, a lot ntate, because we Basotho are people who trust balimo (ancestors) a lot; even God we trust him a lot; we trust those who are up [in heaven] because we do not want those people to suffer, and yet they are already soil, just like they say, soil to soil."
Moleleki, M/61, Lesotho 16
"Now the [people in the graves] cannot stay in that water, because sometimes when .they need me, I should go there and talk to them."
Moleleki, M/61, Lesotho 16

top