RELATED THEMES
agriculture
development
environmental knowledge
health
livestock
migration
resettlement
OTHER LOCAL THEMES
community activities
compensation
culture and customs
economics
education
employment and income
family life
gender
history
justice and crime
land
livelihood strategies
social change
social institutions
social relationships
spiritual beliefs

BACKGROUND
introducing the area

environment

quotes about environment


key testimonies featuring environment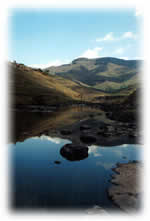 The relationship of the Molika-liko community with their environment permeates every aspect of their lives and reflects their need to make it work for them; to nourish it so that it can continue to nourish them. Although this entails hard physical labour, narrators emphasise that the naturalness of this relationship gives them a sense of freedom: "We live on grass. We cut grass, we weave, we help ourselves; we plant our food in the fields; you just plant peas, beans, potatoes in your field; you do as you like." (Lesotho 12). And although by "objective" standards, their environment could be seen as relatively harsh, narrators make little of this. "We never find ourselves in any difficulties since this land of ours provides us with everything," insists a traditional healer (Lesotho 24), who also stresses that he gathers medicinal plants without threatening their sustainability. Several other narrators mention wild fruits and vegetables, and plants of practical and economic value. For example, aloe and "spiral aloe" - a protected species, indigenous to Lesotho - are found wild (and are cultivated) and are used as a cleanser before burials, as well as sold.
The valley is sheltered; even the winter snow doesn't settle for long, they say. Another example given of the beneficence of the local environment is the quality of the grazing. Unlike much of the lowlands, dominated by a grass called molula, the Mohale area is home to a variety of grasses that are particularly good for grazing. Residents specify a variety called letsiri that apparently does not wear out the teeth of cattle.
There are some references to wildlife: rabbits, squirrels and polecats are still killed but antelopes are no longer seen, having moved further into the mountains because of the growth in population and increased hunting. Most animals are hunted as food, while the polecat also has medicinal properties. Other wild animals mentioned are servals, hares, jackals, bucks and meercats.
Poor rainfall is a frequently voiced complaint, some narrators maintaining that drought has become more common than it was in the past.

top
quotes about environment
"Here at Molika-liko [snow] does not take even two days [to disappear]. This place... it is like it is not a place of the mountains. The snow of here wakes up having settled here. and you would not even see what is what, but by this time (around 10am). here in the valley it is no longer there; it would remain on the mountainsides there. It will happen that when the sun sets. or the day following that one, there is already nothing on the mountainsides here and we are already just herding well."
Motseki M/40s, Lesotho 20
"[Wild animals] are of great benefit to us and we protect them a lot, so that they should not be killed - the ones like bucks, steenboks, because they are the ones that are here. Springboks I no longer see. Now these steenboks and these bucks - they are the ones that we protect a lot so that they should not be shot at. Just like a lot of people have bought guns from the government. They should leave them alone so that we can show the children, so that they should know them and the hares. Now sometimes they try and set dogs on them but we are still trying to show the mistake of doing so."
Sebili, M/46, Lesotho 17

top