RELATED THEMES
agriculture
community activities
environment
gender
social change
spiritual beliefs
OTHER LOCAL THEMES
compensation
development
economics
education
employment and income
environmental knowledge
family life
health
history
justice and crime
land
livelihood strategies
livestock
migration
resettlement
social institutions
social relationships

BACKGROUND
introducing the area

culture and customs

quotes about culture and customs


key testimonies featuring culture and customs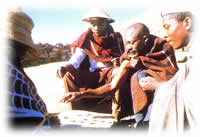 Many of the testimonies describe the traditional male and female dances that were, and occasionally still are, performed on various occasions including matsema, weddings, initiation ceremonies and Christmas. The men's dance is mohobelo, which is characterised by stamping feet to a song. The women's dance is mokhibo and is characterised by the rhythmic moving of the shoulders from a kneeling position, also to song. This dance is often accompanied by molilietsane (shouts of applause and encouragement). Describing one celebration, one woman says: "we would ululate, men would dance and dart about" (Lesotho 12).
At times of drought there used to be a whole range of activities performed to bring about rain. For men, prayer for rain takes the form of a hunt (molutsoane) and as they leave the village they sing mokorotlo (war song). For women the main activity is the rain game, of which an elderly woman says: "It would just be joy" (Lesotho 12). When drought threatened, women and girls from one village would "steal" the Chief's lesokoana (a stick used for stirring food) from a neighbouring village and run home with it in relays. At some point a tug-of-war with women from the original village would ensue, as they tried to retrieve the lesokoana. The idea seems to be that, as the women ran with sweat from all the running and tugging, the gods would take pity on them and release rain rather than sweat, to soak into the parched ground.
Games that narrators played when young include riding calves, stick-fighting, and going to lichifona, night-time concerts attended by young women and men at which the latter sing. Another narrator talks of "football matches and horse racing" (Lesotho 3). Indeed, horses are a key part of mountain life: as one man says: "They are ridden, they are loaded on, the games for them are many, some of them are made to amble, some are raced" (Lesotho 27). The Basotho horseman in his traditional blanket is the image which so often symbolises life in the highlands. Decorated woollen blankets are now worn by all. It seems they began to replace those made from animal skins from the late 1870s, a time when trading really expanded in Lesotho. Designs are many and varied: some are traditional; others reflect modern culture.

top
quotes about culture and customs
"They would go from the village singing, going to fetch rain. They would say they are going to fetch rain. They would sing mokorotlo (war song) going there to the mountains and they would be going to shout and make mokorotlo."
Tsatsi, M/70s, Lesotho15
"At khotla (meeting place) there, there it was just that moraba-raba (a chess-like game) is played, cards are played, and then there would the stories of men at khotla. Containers of beer would still be standing here in an arrangement... There are no longer villages where you can say that men still go and sit at khotla."
Tsatsi, M/70s, Lesotho 15
"Once you had bought this blanket, the white mephoso (woollen) one, this one with white lines, this one of mohair. This white one with a lot of wool with white lines, that was the blanket for the children, even when they were visiting that was their blanket. Much later when things were changing, there appeared these other blankets When people started going to the shops there appeared these blankets called masolanka (woollen). They actually appeared and spread. People even started throwing away these blankets made of hides, and then they started seeing these hides as something which was of no use."
Tsatsi, M/70s, Lesotho 15

top