RELATED THEMES
communications
development
economics
education
migration
tourism
OTHER LOCAL THEMES
agriculture
community activities
culture and customs
environment
environmental knowledge
family life
festivals
food security
forestry
gender
health
justice and crime
livelihood strategies
livestock
social change
social institutions
social relationships
spiritual beliefs
traditional skills
water

BACKGROUND
introducing the area

employment and income

quotes about employment and income


key testimonies featuring employment and income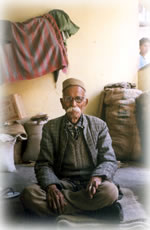 In earlier times people relied on their agriculture, livestock and surrounding resources for almost all their needs and were largely self-sufficient. It is clear from the interviews that farming alone can no longer sustain households for the whole year; people also need to bring in some form of cash income, either through casual labour, marketing, or migration. Money is needed for education and medical expenses, and to buy modern utensils and clothing, farming inputs, non-local foodstuffs and sometimes labour. As communities have become less self-sufficient, so the old trades are becoming less common - several mention that there are no longer local carpenters, potters, traditional musicians, weavers, or smiths working in iron, brass or gold.
Some trades have given up because resources are declining, for example timber for carpentry, cotton for clothes; others have faced a drop in demand as manufactured products become more popular and available. Some changes also reflect different attitudes to caste occupation, especially among lower castes. One narrator (India 9) says: "Each and every handicraft has seen a sharp decline in modern times.The new generation has left their traditional occupations completely.The cause of this decline is the spread of education and the [reserved] jobs being given to them by the government." Another highlights how this and other factors can lead to a skill and knowledge vacuum: "On the one hand people are losing their traditional knowledge and means, and on the other hand they are not getting adequate training in modern scientific techniques. As a result of it they are losing all their assets. That's why I advocate the revival of traditional occupation, measures and methods." (India 8)
Some narrators bring in income through the sale of dairy products and others talk of making and selling wool products. Some have government jobs or are employed in projects such as the Tehri dam. Migration for paid work generally has been seasonal but there is a sense that it is increasingly becoming permanent for some, mostly men. Some claim that the move away from farming is also a result of changing attitudes, lifestyles and aspirations. People are beginning to consider a farming life too difficult, say some: "Those who get educated get jobs. Nobody pays attention to farming now. Everyone wants to avoid hard work. They want comfort, conveniences." (India 29)
There is much concern with the lack of local employment opportunities and the resulting migration, and strong agreement that the development of cottage industries and the marketing of local products have the most potential to generate local jobs and income. At least one narrator (India 8) refers to inadequate transport facilities as a barrier to marketing local produce: "It is all right in this area. But there is a great problem in remote areas. The farmers cannot get full profit out of their cash crops because the fruits rot by the time they carry them to the roads, which are at a great distance. The areas which are beside roads.are able to promptly rush their products to the market. But it is not so in the remote areas."
There is some description of the government's daily wage for work scheme at the village level: jawahar rojgar yojna. This is supposed to be targeted at the poor and lower castes and to support various panchayati works, but according to one narrator (India 33), this is not how it works in practice: "According to the rules, villagers, women, scheduled castes and scheduled tribes should be employed for this work. But generally, in order to complete the work quickly, people employ Gurkhas (Nepalis) or get the work done through contractors. there are very few villages who give work to the native villagers and provide them the benefit."
More and more people work as labourers to supplement what they get from farming, although one says employers would rather exploit outsiders: "People bring Nepalis here [because] Nepalis work much harder, so people think that they can exploit them. If a person belongs somewhere else and so no one here knows him he can be exploited; men from the local villages cannot be exploited." (India 1)

top
quotes about employment and income
"If a factory is established, the boys would get employment in it, and they needn't go to the cities. [Now] the Tehri Dam is under construction, but there most of the employees are outsiders. If the people belonging to this area got employment on it we need not serve (get jobs) outside our hills."
Avatar, M/75, mason/carpenter/ farmer, India 5
"[As a scheduled tribe] we have reservations. We have counted that within the last four years around 68 to 69 young men have got government jobs. we are very happy. Every family has a salaried member. [People did not have jobs] in my day. They did their own work like weaving wool, grazing the goats, and made and sold woollen things."
Champal, M/90, Buddhist, Jaad scheduled tribe, trader, India 24
"In addition to agriculture there is cattle-rearing. Then there are blacksmiths and tailors who are still carrying on with their traditional profession. But the professional tailors have changed over to doing something else because those who get trained in the cities are doing a better job. We have vegetable sellers, a few contractors. Walnut and lime cultivation also provides people with enough income for the entire year. Those who grow ramdana (amaranth) and kale bhatt, they also get a good price. [Others] are cultivating chillies and getting a good bargain price."
Vijay, M/41, activist/farmer, India 28
"People used to join the armed forces from the hill regions but now their ratio is reduced. Now the ratio has increased in the hotels and instead of protecting our frontiers people are busy making money. The people here have broken their connection with farms and cattle and have settled in the plains. Their farms are lying waste and fallow."
Bihari, M/60s, leader of grassroots organisation, India 12
"There used to be chatties (halting stations) at various places. There was one near our village also. Pilgrims would come and there would be arrangements for their stay and we would benefit from them as they bought provisions, milk, ghee and wood. Then there was a lot of profit. Today the same chatty is completely finished."
Mahesha, M/67, shop keeper/ farmer, India 3

top