RELATED THEMES
gender
migration
social change
social relationships
OTHER LOCAL THEMES
agriculture
communications
community activities
culture and customs
development
economics
education
employment and income
environment
environmental knowledge
festivals
food security
forestry
gender
health
justice and crime
livelihood strategies
livestock
social institutions
social relationships
spiritual beliefs
tourism
traditional skills
water

BACKGROUND
introducing the area

family life

quotes about family life


key testimonies featuring family life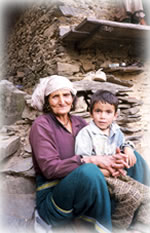 Family life is a topic often touched upon, and there is much discussion about the demise of the joint family system in favour of the more modern nuclear family. This change seems to have affected power structures within the family, with in-laws and elders having less authority over their children's individual families. Many regret the change for another reason: larger families meant more people to help each other. "In difficult times nuclear families suffer greatly as their entire work comes to a standstill. There is nobody to look after agriculture - or the household chores for that matter - whereas in a family that is joint, the work goes on smoothly in adverse times too. Agriculture, forest, house, cattle, all.go on as usual. if a member of the joint family falls sick, one person does the looking after and the others carry on with the other jobs." (India 11) Education too is causing change, with older family members sometimes feeling devalued by their children's lack of respect for knowledge borne of cumulative experience rather than formal education. The increased trend for migration, often linked with greater access to education, also affects family life, as women, younger children and older relatives tend to be the ones who stay in the villages.
Women's relationships with their in-laws feature quite strongly. Many of the narrators were married at a very young age and found themselves under the strict control of their mother-in-law. Since this experience was apparently often not a good one, with the young bride lonely and homesick and expected to work extremely hard, most narrators feel the change to later marriage is for the better. The pros and cons of polyandry, older husbands, being a second wife, forced marriages and divorce are also mentioned, as is the affect of alcohol on family life. A number of women speak of the emotional and economic distress caused by husbands drinking and several have taken leading roles in anti-alcohol campaigns.
There is some discussion on dowry, which has only recently become common practice. Earlier, as some narrators describe, the custom was to pay a "price" for the bride as her value lay in her contribution as an extra hand on the land. Many narrators say expectations for dowry are on the rise, and the expense now makes it difficult for many families. One woman (India 13) is taking action to raise awareness of the problem: "Giving and accepting dowry, both are bad. Just imagine a father who has seven daughters - he will be miserable and spend all his life arranging dowry for his daughters. It's a curse for a poor father. In one [of our] meetings we try and instruct that dowry giving and accepting, both are bad practices. This should be abolished."

top
quotes about family life
"We [daughters-in-law] did not have courage even to laugh.We used to get blisters on our hands while crushing paddy, and if we got late we were scolded. Who can scold anyone now? Now we are scared of the daughters-in-law! People threaten us by saying that the daughter-in-law is coming!"
Hira, F/53, weaver/farmer, India 22
"Sometimes a drunkard husband doesn't pay proper respect to his wife. The children also have to face its bad effect. family disputes take place and it also has an impact on the future of the family. The education and the bringing up of the children suffer."
Satye, M/45, farmer/waged work, India 9
"Now they see the outside world and have learnt a lot. Both girls and boys are getting educated and developing independent thinking, and sometimes refuse to get married. The girls are becoming more aware that they should not marry early."
Jubli, F/55, head of Mahila Mangal Dal, India 14
".society is changing very rapidly and people are adopting the common practice of living in smaller families. Polyandry and joint family systems are gradually disappearing. People call polyandry a social evil but I feel that this system was very good for controlling the population growth, and simpler for property distribution."
Lakupati, F/80, farmer, India 18
"We give our daughters in satt batta (exchange marriage). This means that if I have a daughter and she gets married into a particular family, that family will marry its daughter into my family. If there is no girl in that family then they give compensation money of about 10,000-20,000."
Talib, M/55, Muslim, Gujjar, former pastoralist, India 26
"I have two sons, one lives in one place - the other in some other place. And their families live somewhere else. Then what happens is that when one is sad, we can't see them, and when one is happy about something we can't share it."
Vimla, F/58, head of Mahila Mangal Dal /farmer, India 6
"The girl whose father had taken money to give her in marriage. such a girl's in-laws often used to taunt her, saying that they had paid money.for her. Such girls used to sing out the pain in their hearts while cutting grass in the forest or when working alone in the fields. [They sang] that you [father] are happy but I am suffering a lot of pain. these songs used to fly away in the thick forests, with the wild breeze, and only their friends could hear them. Later this custom of taking money for marriage died."
Bachandei, F/70, Hindu, Rajput, farmer, India 34

top