RELATED THEMES
development
gender
livestock
migration
social institutions
traditional skills
OTHER LOCAL THEMES
communications
community activities
culture and customs
economics
education
employment and income
environment
environmental knowledge
family life
festivals
food security
forestry
health
justice and crime
livelihood strategies
social change
social relationships
spiritual beliefs
tourism
water

BACKGROUND
introducing the area

agriculture

quotes about agriculture


key testimonies featuring agriculture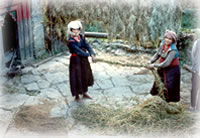 There is much discussion on farming and agriculture, especially in terms of the changes taking place in this central aspect of people's lives. Some mention shifts in attitudes, especially among the young, and a few comment on climate change affecting crop production. One narrator (India 13) says, "These days, people are not genuinely fond of working in the fields. The young boys feel that only a month's salary will be wasted, nothing more." She adds, "It rains when we don't need it and when we need it, it never rains." Another (India 19) says migration is a key factor in declining yields: "The main cause is the absence of young people who have gone in search of jobs. Nobody from the family can look after land. Earlier people had more cattle, but not any longer. So there is insufficient dung for use in the fields."
Taken as whole the interviews make it clear that many factors are involved in agricultural change. The overriding concern is the impact of modern inputs such as hybrid seeds and chemical fertilisers, and the potential demise of traditional farming practices. The overall trend is loss of variety - wheat and paddy are replacing a wide variety of nutritious local crops - and greater dependence on cash crops, with their expensive inputs. "Today, we sow only soya beans in our field, and only that one crop is there." (India 6). Another (India 7) says, "Nowadays production of millets like jhangora and mandua have decreased. People are interested in growing paddy". Changes are linked: one narrator (India 11) points out that: ". cattle rearing is on the decline and hence there is insufficient cow dung. So they buy fertiliser from the government." New farming practices have knock-on effects. The decline of cotton cultivation has affected traditional crafts and self-sufficiency, with spinning and weaving dying out in many areas. People's knowledge of weeds allowed them to make use of many varieties as manure and cattle feed, but modern farming practices are less discriminating and encourage elimination of most weeds.
With few exceptions, most narrators are strongly in favour of reviving and maintaining their traditional approach. One explains, "For us, our ancestor's methods alone were right. We are sowing the same seeds." Some narrators have been particularly active in this area. Vijay (India 28) is the founder of Beej Bachao Andolan (Save the Traditional Seeds movement) and he gives an interesting and detailed account of the state of agriculture today and the need to use and conserve indigenous varieties of seeds. There is detail on the traditional means of acquiring and storing seeds and crops, and on methods of producing rich manure. A few narrators identify disadvantages of some new varieties being introduced by the government, particularly soya bean, and others contrast the benefits of cow dung and mulch as manure with the negative effects of chemical fertiliser. While they acknowledge that it does increase yields, they feel this benefit is short-term; in the long term they fear chemical fertiliser will damage their land: "Today's seeds give a better harvest but these cross-seeds need chemical fertilisers and pesticides, which was not so earlier. The earlier seeds were constant, they would yield a satisfactory crop under any condition. The use of chemicals for new seeds will give a better crop but the question is will the soil remain in good condition?" (India 10).
The testimonies were collected over a wide area and narrators describe many different crops and conditions. Horticulture seems to be on the increase in some places and several see fruit trees as a positive development for the future. Some own un-irrigated fields, which restrict what they can grow and when: "Well, if the quality of land is suitable and it is well-irrigated then crops like ginger, turmeric, cumin seed, carrot, onion etc can be produced. But if the irrigated land is far away, somewhere near hill streams, then it is difficult to cultivate anything." (India 7). A minority lives in areas where traditional crops still predominate, generally at higher altitudes and far from roads, for example Asuji (India 21) says: "We have all our traditional crops here".

top
quotes about agriculture
"Yes, in the first year.I thought [chemical fertiliser] was really wonderful. But in the second year the yield began to fall, and in the third year it fell even lower. In the fourth year it was exactly where it was before I started using fertiliser. The money that I spent on buying the fertiliser is a separate matter. Our land was harmed in exactly the same way that a man's body harmed when he drinks liquor. That was the effect the fertiliser had upon my land..."
Sudesha, F/50s, activist/farmer, India 1
"We have been following the method of our ancestors. But these days the officials from the agriculture department visit us and demonstrate the new methods of farming. This way our method has improved. Our produce has increased."
Lakupati, F/80, farmer, India 18
"Our traditional agriculture was fully self-reliant. The seeds, the manure and the bullock, everything was personal. only seeds were exchanged by farmers. But the. farmer today is totally dependent on the government machinery. It would not be an exaggeration to say that he has become a slave to multinational seeds and fertiliser."
Vijay, M/41, activist/farmer, India 28
".the government and the scientists are telling us not to grow [the traditional crops of] mandua and jhangora, but to grow soya bean, as oil and milk can be produced from it, and it is rich in proteins. But who can extract oil and milk out of it? It is not possible for local men to do this. Earlier, when people cultivated mandua and jhangora, they had enough food grain for their consumption and plenty of fodder for the cattle. Soya bean is useless for fodder but good only for big factories."
Vijay, M/41, activist/farmer, India 28
"All traditional seeds and fertilisers were used. The fields were ploughed with bullocks and ploughs. The corners where bullocks couldn't reach were dug with spades and the fields were made ready for sowing seeds. The best seeds were kept in airtight pots and thus kept safe for the next season. Cow dung and rotten leaves were used as fertilisers [and] gave good results."
Mohan, M/60, Hindu, Brahmin, ayurvedic physician, India 8

top