RELATED THEMES
history
identity
migration
resettlement
OTHER LOCAL THEMES
agriculture
culture and customs
economics
education
environment
environmental knowledge
family life
festivals
forestry
health
industry
tourism
water

BACKGROUND
introducing the area

social relationships

quotes about social relationships


key testimonies featuring social relationships

Being an area of changing boundaries and waves of settlement - largely forced - social relationships in the Valley were bound to have come under strain. Narrators do speak of tensions between various groups, notably between post-war Polish settlers and the original German residents; and between local residents and those members of the intelligentsia déclassé who took up rural life more recently. Generally speaking, though, the story is of ordinary people doing their best to cooperate. For many, the war years had been so traumatic that all they wanted afterwards was a peaceful family life and enough to eat. But once people started to put down roots and some prospered more than others, one narrator claimed that "a lot of envy" developed and "if you are a bit better off, they will point you out with their fingers". This seems to have increased after the 1997 flood, when the distribution of assistance created suspicion and jealousy: "those who didn't get anything were not happy about it to say the least. It caused considerable discord among people which lasts until this very day".
The narrators who were the Valley's "original inhabitants" describe mixed experiences of the German deportation and subsequent Polish "recovery" of the area. One narrator saw the Poles "as enemies. How would you treat someone who entered your private possession and said: 'Get out of here'?". Others, however, had no problems and said that they "generally felt accepted" by the Polish settlers. Most of the older Polish narrators felt their own reception was largely marked by kindness, and they remembered with sympathy how difficult it was for those Germans who were displaced from the area in 1946. Few Germans stayed behind, and those that did assimilated relatively easily - learning the language and marrying Polish partners. Nevertheless, there were differences between the Germans and the Poles. Many of the latter remarked upon the efficiency, frugality and punctuality of the German way of life: "They were [so] frugal, they would put a patch on a patch. When we first arrived, we looked at them and we though, how poor they were, a patch on top of another patch. And when Sunday came, they came in their Sunday best clothes, hats, handbags and things, so elegant. Our folks don't know how to be frugal, the way the Germans are. .And we learned some of it from them." (Poland 9)
German or Polish, most post-war residents were poor farming folk. The arrival later of educated urban professionals - members of Poland's intelligentsia déclassé - was viewed with suspicion. These migrants had mostly left the cities because of disillusionment with the political regime and were searching for an alternative way of life. The locals, said one narrator, "looked with some sympathetic irony at our attempts to become farmers - people coming from town, wanting to be farmers, we'll see what comes out of it". Although relationships were initially wary, it became clear to some residents that the newcomers had skills to offer: "they needed me, as it suddenly turned out, just as much as I needed them". One woman was a doctor, which brought her family "a certain position" in the village: she is "very needed here . she helps our neighbours, not taking money for it and they will either bring some eggs or help in the garden". Similarly, since 1989 some of this group have revived their old flair for organisation and have become involved again with local public life. In spite of this, some say, even if they have lived there for "the last sixteen years, still we are [seen as] tourists".

top
quotes about social relationships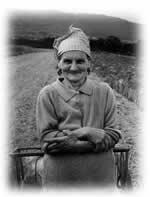 "[When the Germans were deported] we cried, all of us . They went, cried, kissed cows on the way, they left everything. We said, "Take whatever you want." But you can't take cattle, how could they? So they took what they wanted, quilts and things . I cried for them. I had got used to them - it was a whole year together. But they visited us later. During martial law in Poland, they sent us packages. Well, they never had any harm from us."
Aniela, F/77, pensioner, Poland 9
""The German hosts were very kind to us. They gave us a room at our disposal upstairs.... We also worked together in a field. The Germans were very hard working and they knew how to economise. They were very careful about everything. They mended the things which were damaged instead of buying new ones. They were also very punctual. The Polish mentality and style of work was extremely different.""
Adolfina, F/63, pensioner, Poland 40
""At the beginning, [the local people] were rather suspicious, keeping a safe distance, as usual in such situations. Step by step, the distance was shrinking. I may say, it was even convenient for me, because it was a sort of a "kind distance". I didn't have time to meet people too often, and I think, it might have complicated our co-existence a bit. I felt it was better for us if I got into that society gradually." "
Ryszard, M/54, agricultural engineer, Poland 38
"".there was no tolerance for people like me, people who came here and tried to change their lives, those who didn't like living in the town, and who decided to come here and try their luck on this hard soil around here. I'm talking about the attitude of the authorities.""
Sylwester, M/50, surveyor, Poland 10
""[Here I have] discovered this very special kind of village solidarity, whereby people don't have to like one another, they may gossip about one another, they may, I don't know, fight at wedding parties when drunk. But if there's one who has got dry hay on the meadow and a storm is coming, then all the enemies and friends alike, they will all grab their forks and rakes, and they will go and fight against nature, arm in arm.""
Krzysztof, M/57, ex-journalist; local MP and chairman of local NGO, Poland 44

top