RELATED THEMES
history
identity
resettlement
social relationships
OTHER LOCAL THEMES
agriculture
culture and customs
economics
education
environment
environmental knowledge
family life
festivals
forestry
health
industry
tourism
water

BACKGROUND
introducing the area

migration

quotes about migration


key testimonies featuring migration

The Klodzko Valley has long been characterised by both in- and out-migration. The testimonies cover the last 90 years, during which there have been three principal groups of settlers and inhabitants. The "original inhabitants" are those Germans whose families had lived in the area all their live; the "resettlers" are the Poles who were moved into the area after World War Two from the former eastern territories, now Ukraine and Byelorussia. For more on these, see Resettlement.
The most significant group of voluntary migrants define themselves as members of Poland's intelligentsia déclassé. Most left public life and an urban environment disillusioned with government and politics. The waves of their settlement in the area coincide with crucial moments in Poland's post-war history: 1956, 1968, 1976, 1981 and 1989. For them, the mountains were both a refuge and a challenge. Their interviews make interesting reading, full of the initial insights of "outsiders" to an area, yet considered and thoughtful, and often honest about the lessons learned as they struggled to make a success of their new, rural lives.
Many narrators comment on the steady migration away from the more isolated, mountainous villages and farms which has taken place since the war. This trend has accelerated recently with the slump in agriculture. Younger generations are increasingly leaving the area in search of better opportunities, with a consequent ageing of the remaining population. But some feel the trend for summer houses and new businesses such as agro-tourism means depopulation may be on the brink of reversal.

top
quotes about migration
""The villages are dying out here in the mountains... the land is not attended to, it gets grown over with bushes, weeds.""
Franciszek, M/79, former local mayor, Poland 4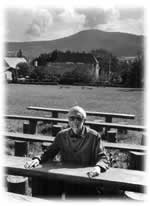 ""It was the hard times for Polish academic life, in the middle 70s. The "stuffy" atmosphere was an effect of the so-called "reform" of higher education, which was based mainly on dismissing really great scientists and scholars. The famous professors stopped working as heads of departments. Those functions were filled by the appointed assistants. They had to be either members of the PZPR (Polish United Workers' Party) or absolutely uninvolved politically ... I couldn't stay there in such an atmosphere; I even gave up doing my PhD.... It was my own way of protesting against that system . I had also my subjective reasons; very personal ones.... somehow inside I felt that I belong to the country life.""
Ryszard, M/54, agricultural engineer, Poland 38
"".when [I decided to move] from the town to the country. I felt at ease, at home in the natural environment. In the madness of the then world, crowded with military uniforms, stupidity and some idiotic aggression, it felt like a paradise on earth.""
Andrzej, M/47, construction engineer, Poland 23
""[When I worked in the factory] I met the man I was replacing, who was leaving his post after 35 years spent behind that one desk; I did not even want to think that it would happen to me.... I quit the job [sold up, and bought a farm in Bystrzyca].""
Waldemar, M/45, owner of a sawmill, Poland 31
""For example, on Mount Czarna Góra, there used to be villages, but now you can hardly find a sign of life there, there's only a small chapel. Generally speaking, there's hardly anything left in the mountains.""
Maria, F/63, former farmer, Poland 11

top