RELATED THEMES
culture and customs
environment
livestock
tourism
OTHER LOCAL THEMES
agriculture
communications
community activities
development
economics
education
employment and income
environmental knowledge
family life
festivals
food security
gender
health
history
identity
migration
politics
social change
social institutions
social relationships
spiritual beliefs

BACKGROUND
introducing the area

traditional skills

quotes about traditional skills


key testimonies featuring traditional skills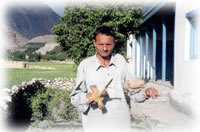 Shimshal's relative isolation has meant that it was essential for Shimshalis to have their own sophisticated skill-set to be able to produce many of the tools, clothes and objects for everyday use within Shimshal. Hayat Begum, a 60-year-old woman explains: "We would import very few things from outside, almost everything we would produce in the village" (Pakistan 9). In addition, the construction of bridges, cable ways and trails, hunting, mountaineering and poetry are other skills described throughout the interviews. One narrator (Pakistan 10) states "Everyone should acquire at least one skill so that they can help each other." Traditional skills which receive most discussion in the testimonies are those related to livestock and livestock products (herding; production of butter and cheese; and wool craft). Hunting has been a highly regarded skill in Shimshal; hunters were referred to as phelwan: "a symbol of bravery and honour" (Pakistan 34). However, today hunting is prohibited. Food is a popular topic of discussion in some of the testimonies and a few narrators describe in detail how particular traditional foods are prepared.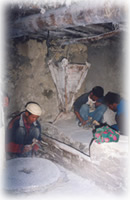 Wool craft and embroidery are in decline due to the availability of other materials for clothes, and changes in gender roles resulting in women having less time for such activities. One woman, Yeenat (Pakistan 26), explains: "I have the skill to carry out embroidery works such as stitching clothes…caps and embroidery on pillow covers, but at the moment I have no time for these works because I remain busy with other domestic works. Our husbands go with tourists to earn money and we remain busy with the agriculture activities." Muhammad Baig (Pakistan 10), a weaver, has not received any orders for woollen cloth in the year, he says: "I did not quit this job [of weaving] but women did not make threads for patto (woollen cloth). Thus I am relaxing and the women are as well… I am not happy with the present situation…I am not disgusted with my profession, but it is beyond my control. Now I have started making thread for people from yak and goat's hair for making sharma (woven carpets) and in this manner I earn money." In other words if the women are not spinning sheep's wool the weaver cannot weave woollen cloth! Instead he has turned to spinning yak and goat hair - a traditional male task. Women's increased role in agriculture, due to male migration, results in less time for embroidery, knitting and other typically female crafts.
Whilst there is undoubtedly a significant portfolio of Shimshal-based skills, certain skills are attributed to outsiders. For example, Shafa (Pakistan 5) explains how he learnt carpentry skills: "I am a carpenter… Sultan Ali came to our village as a carpenter, from Gulmit… [We] observed the work and gradually we started working with them… [and] got the opportunity to learn this work." Similarly, some "female" skills such as particular knitting and embroidery designs are attributed to women who have married into Shimshal from nearby villages. Individuals from Shimshal are also remembered in connection with their expertise and contribution to the community.
The three mountaineers interviewed in this collection have evidently improved their skills through experience of international expeditions. However, climbing and mountaineering can to some extent be referred to as a local skill. Since Shimshal was first settled, its people have traversed steep slopes and glaciers to come in and out of the community and visit the high pastures.

top
quotes about traditional skills
"We would use barley flour for [making soap]. Another method of making soap was that animal fat was mixed with ash and put in a basket, and water was added... A pot was placed beneath the basket so that the water and fat seeped through the hot ash and was collected in the pot. This filtered liquid was then boiled and stirred continuously with a wooden spoon until it became a paste. It was then dried in the form of cubes and was used to wash woollen cloth… Those who did not possess animal fat would borrow it from others but everyone would make the local soap."
Gulbika, F/65, farmer, Pakistan 27
"When we were on our way to climb that peak, we had to climb small peaks. I used a traditional method to climb that peak using wooden sticks in place of "ice axes". They (the expedition leaders) appreciated me by saying that you will be a good mountaineer in the near future, because you have the skills of climbing mountains. They also said that you people are living in the mountains and you are brave enough to come across these sorts of things and that was the time from when I started my career in mountaineering."
Qudrat, M/31, mountaineer, Pakistan 24
"I learnt this skill with my own will and interest, because my father would always advise me to acquire a certain skill. Everyone should acquire at least one skill so that they can help each other. When my brother would leave the sakht (loom) for a short break I would sit in his place and would start weaving. At the beginning my work was not so fine and my brother would get annoyed but when I improved he started appreciating me. In this way I learnt the skill completely."
Muhammad Baig, M/67, farmer/weaver, Pakistan 10
"In former times we would card the wool in the night… sometimes twelve women would sit together in a house and would card the wool and prepare the yarn for coarse woollen cloth and sweaters. Very few women now do this work because women have taken over the assignments that were normally carried out by men... In olden times women would fabricate sweaters and socks. In socks, Gul Begum design (named after the woman who introduced it) was the most popular design of that era… In this design all the coloured threads were used simultaneously. Different designs and flowers were used to make the socks impressive."
Hayat Begum, F/60, farmer, Pakistan 9
"Then there are methods of preparing qurut (local dried cheese)… When the butter is extracted from the milk the residual is… poured in a large pot and put in the oven. The whole day it is cooked and when it gets dense then it is taken out and about 35 cakes are made out of this pot and are dried on the roof of the house. When it is completely dried it is then packed in bags and stored. Each household makes about three to four packs of qurut. When both qurut and butter are ready it is then transported to the village [from Pamir] with the help of yaks."
Wafa, M/49, farmer, Pakistan 15
"So usually if there are special ceremonies or culture shows or those kinds of things, my father sings there. But that's not something for money, this is a kind of a tradition we have, that if there is happiness everybody gathers and celebrates it. So the good dancer will dance there, the singer will sing there..."
Inayat, M/27, development professional, Pakistan 2

top