family life

quotes about family life


key testimonies featuring family life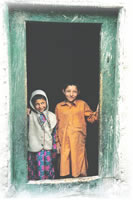 Changes in marriage practices and in the family set-up more generally are referred to in many of the testimonies. In the past people tended to marry at a young age and these marriages were arranged by their parents. Qurban explains that although "the situation has changed, compared with other areas the tradition still exists in Shimshal" (Pakistan 28). Several of the narrators were themselves very young at the time of their arranged marriage and describe some of the problems associated with this. Most who discuss this topic believe that the current trend of men and women having a say in their choice of wife or husband, and marrying later, is a positive change. Indeed, one woman says: "Nowadays parents seek the consent of their children and such marriages are very successful because they develop mutual understanding. In former times marriages were made against the will of their children and very few people would enjoy a successful marital life, most of the marriages would end with divorce…" (Pakistan 9).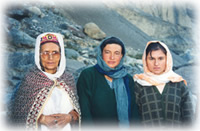 There is some reference to the change in family composition with more people today choosing to live in smaller nuclear families rather than the traditional joint family. Those who discuss this see it as negative and part of the wider change towards a more individualistic life, where households are dependent on their own cash income, rather than on the joint family's land and livestock assets. One woman explains one of the advantages of living jointly: "…in a joint family system you can divide work amongst family members so everyone has to do a little work" (Pakistan 32). Several narrators also describe the loss of respect from daughters-in-law towards their mothers-in-law.
Migration is also changing family structures, as the young (mainly men) pursue their education outside the village and migrate for paid work. However, apart from the resulting change in the gender division of labour there is no other comment in the testimonies about the impact of migration on family life.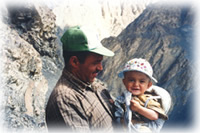 There are family ties between villages, formed and reinforced by men and women marrying people from other villages. For example, if a man's mother came from Passu he may also look to her extended family in Passu for his wife. Gulshad, originally from Ghulkin, explains that it was her father's wish for her to marry into his wider family in Shimshal: "…his mother was from Shimshal and Shimshal was his maternal grandfather's village and he couldn't afford to refuse them… So despite the refusal of my mother I was married on the will of my father" (Pakistan 17).
Farman (Pakistan 11) estimates that there are 10 female-headed households in Shimshal; Mushk (Pakistan 22) represents one of these. She describes the difficulties she faced as a widow, yet how she managed single-handedly to bring up her son, at times receiving help from members of the community. There are no other references to female-headed households in this collection.
Aside from Mushk's experience, love and loyalty for one's family is evident throughout the testimonies. Narrators talk affectionately about their families, and older siblings feel a responsibility to support the education of their younger brothers and sisters. The system of nomus is a powerful way to remember and acknowledge family members. One woman (Pakistan 17) explains, "When [my mother-in-law] was seriously ill, I acknowledged the hardships of her life and promised her that we would offer nomus in her name in recognition of her sacrifices and services. She was then satisfied… So my husband and his brother constructed an office building for the Tariqa (religious) board and turned it over to the community. That was the happiest day of my life when I fulfilled my promise to my late mother-in-law."
There are several asides or references to foster mothers and fathers throughout the testimony collection. A foster mother is a woman, not the individual's natural mother, who breastfed them as a baby. A foster father would be the husband of this woman. These relationships were evidently significant: acting as foster mother for a member of the Mir's family could secure one a position in the village such as arbob (Mir's main representative in the village); and one woman says it was her foster father who brought her halfway to Shimshal at the time of her marriage.

top
quotes about family life
"I married in accordance with the… wishes of my father because my father and father in-law were very good friends and they cared for each other. My father asked me to marry the daughter of his friend so I honoured the words of my father and I told my father that I should marry her."
Shafa, M/47, farmer, Pakistan 5
"The marriage system in olden times was such that nobody would bother seeking the consent of the girl and the boy, the parents according to their own wishes would decide and would prefer kinship or wealth rather than the likes and dislikes of their children. The girls were forced and sometimes even beaten if they refused the marriage. But today it is not like that, unless the boy and the girl are willing and they like each other. Parents do not take any decision… I am in complete agreement with the present system because it allows one to marry in accordance with their own likes and dislikes and in such a way the couple can live a happy life."
Gulshad, F/40, farmer, Pakistan 17
"When I was about the age of my granddaughter (9 years) I was married. On the day after my marriage I was so young that, I ran back to my parents' house. When my mother heard that I was running to their house. She came out with few apricots in her hand and then she picked me up and held me in her arms [and then] she brought me back to my father-in-law's home… A year later I went to Pamir with my mother-in-law. I was so young that I could not work and my mother-in-law used to scold me when I was not able to do any work. Nowadays if you are going to scold your daughter-in-law she may kill you [said jokingly]."
Gul Khatoon, F/95, Pakistan 32
"…the house management system today is quite contrary to the old times - a mother-in-law has no importance in the house today, instead the daughters-in-law run the household affairs on their own. Whenever the mother-in-law gives an instruction, the daughter-in-law turns it down by saying that gone are the days when they ruled the family, now it is a different world… senior members in the family are losing their traditional importance and respect."
Gulshad, F/40, farmer, Pakistan 17
"My parents were also born in this village. When my father was very young, my grandmother had died. Another grandmother of mine named Punik, who was also living in the same family house had to look after my father. I had two grandfathers - Langardar, my real grandfather and Durman, his younger brother. Both were from the same mother but from separate fathers. Durman's wife, Punik, had given her milk to my father and taken care of him for one year."
Shogoon Muhammad, M/67, farmer, Pakistan 30
"The way nomus worked was that people…would enthusiastically offer part of their wealth to nomus. They built bridges, trails, irrigation channels… The descendants would normally realise the duties and services of their parents… In turn they would discharge their duties as descendents by offering their wealth in the name of their parents."
Baig Daulat, M/75, farmer, numberdar, Pakistan 6
"Passu is my birthplace and it is also my father's home. But today my own home is Shimshal and Shimshal is everything for me. The father's home looks good for girls until marriage. Today my father's home is only a source of pride for me, and the people of Shimshal have taken the place of my own father and mother."
Roshan, F/50, farmer, Pakistan 21

top