culture and customs

quotes about culture and customs


key testimonies featuring culture and customs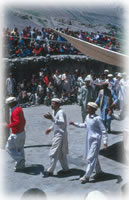 One narrator defines culture as "the mode of living" and the testimonies definitely suggest that Shimshal's culture and customs are strongly rooted in people's day-to-day agro-pastoral activities. For example, most of the festivals mark key points in the farming calendar and serve to collectively initiate significant farming tasks. Many of the testimonies contain detailed descriptions of Shimshal's numerous festivals, its traditional food and clothing, marriage customs and games played. In addition some narrators talk about songs, stories and poetry and the key individuals who are considered to be or have been experts in these areas. Traditional dishes are mentioned a lot in the testimonies and as a result there is a separate glossary on food.
As well as the more visible customs, rituals and festivals, for Shimshalis certain values and behaviour are important aspects of their culture, for example respect for elders and humbleness. The testimonies illustrate the high regard for cooperation, collectivism, and respect for one another.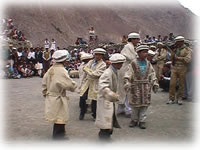 It is sometimes difficult to tell whether people are talking about the past or the present, and so how prevalent certain customs are today is unclear. But it is clear that there is a great wealth of culture and customs in living memory and that people are concerned about the future of their culture and traditions.
Inayat (Pakistan 2) describes how cultural knowledge used to be transferred to younger generations during key community events where the young would gather to listen to the elders. Many of the young generation have migrated from the village for education or employment and opportunities for young and old to sit together in this way have decreased. The Shimshal Culture Programme is an attempt by the Shimshal Nature Trust (SNT) to ensure Shimshal's rich culture is not forgotten despite such social changes. This is seen as especially important given that the community has no written accounts of its past: "we don't have written histories we don't have all these folk stories, or songs and everything [written down]… everything is transferred through generations, mentally…" (Pakistan 2).
The key change in marriage customs has been a reduction in spending on the celebrations. This is largely the result of the Aga Khan's farman (teaching), which also applies to funerals, circumcision and naming ceremonies. There is widespread approval of this farman, as people appreciate that they should spend the money on their children's education or community development efforts.
Ismailism plays a key role in Shimshal's culture. In addition to providing a structure for many of the community's institutions, it adds a spiritual dimension (generally in the form of special prayers) to all festivals. One narrator (Pakistan 11) is critical of the all-pervading influence of Ismailism on local life and culture, as he believes much of this comes from Ismailis who live in the cities of Pakistan, and that it is taking precedence over indigenous culture and norms.
The migration to and from Pamir (Shimshal's mountain pastures) is celebrated by the whole community, but there are also a series of customs (in the form of games and rituals) involving those villagers who reside in Pamir (known as the Pamiriks) and those who mainly stay in the village during the summer months (known as the deyoriks). These include the appointment of shartwurza (guests of the year - 1 or 2 deyoriks are nominated as the special guests to Pamir), a yak riding competition, and Nash Qalam Din (rope-cutting mission). Nash Qalam Din is described by several narrators and involves the deyoriks travelling to Pamir undercover and trying to release some of the yaks. This ritual is seen as an opportunity for the youth "to prove their bravery and skills to attack an enemy…" (Pakistan 28).

top
quotes about culture and customs
"New organisations are coming into being which insist on the preservation of culture… But if we look at the commitments of the people today, then it looks like the people…would not afford time for such celebrations - because festivals also demand the presence of people. Today nobody is available even to irrigate their crop fields, then who will afford time to celebrate these festivals… I think it would not be justified to say that the customs should be abolished but they…may disappear as a result of modernisation."
Chiragh Ali, M/48, farmer, Pakistan 8
"…we collect the butter in Pamir throughout the summer and transport it to Shimshal and store it in yeenjui (underground cold store for butter) where it ferments and the taste changes… the butter is…used on the occasions of marriages and deaths and for other requirements… it makes the beth (local dish; wheat flour mixed with butter, water and salt served with mutton) tasty as compared to bat made by fresh butter. It is a symbol of prestige to use fermented butter on such occasions."
Yeenat, F/51, farmer, Pakistan 26
"Following the traditions, respecting the norms and laws and not going astray is the unique culture of this village. It is indeed the period of knowledge and information. Everyone must get education. But they must not abandon their culture and traditions. The educated people should not criticise these traditions by saying that these are outdated and old things."
Qurban, M/60, farmer, Pakistan 28
"…all these systems are breaking down because of education, because of migration and because of modern interventions. And now we don't have a chance to sit with all those old people and listen to everything so none of us know about Shimshal's history, we can't even properly speak the Wakhi language. And we felt that with the dying of people we are losing everything… we decided okay we should establish this Shimshal culture programme that we should try to preserve all these things otherwise we are going to lose them."
Inayat, M/27, development professional, Pakistan 2
"The main objective behind my poetry is to work for the survival of our Wakhi language because many words of our language had been lost or replaced by other languages. I am trying to get back the lost words… to use these sorts of words in my poetry. Nowadays I am busy working on the alphabet of our Wakhi language, I want everyone to be able to read our language."
Aman, M/41, teacher trainer, Pakistan 12
"Hospitality is not a bad thing, it is our culture and it comes from our ancestors… when someone came to the village after four days walk, everyone would invite him to lunch or dinner. It was part of our culture that we would invite everyone, even strangers to eat, irrespective of their origin and identity… The road link is approaching Shimshal and tomorrow vehicles will come to the village, thus increasing the influx of guests. So the trend of traditional hospitality is declining… But…we should retain it, because if we respect a stranger, it is like prayer and worship. It is not useless but a beautiful aspect of our culture."
Asmat, M/55, driver/retired soldier, Pakistan 3
"[My father] can sing the traditional Wakhi songs... So usually if there are special ceremonies or culture shows or those kinds of things, my father sings there. But that's not something for money, this is a kind of a tradition we have, that if there is happiness everybody gathers and celebrates it. So the good dancer will dance there, the singer will sing there..."
Inayat, M/27, development professional, Pakistan 2

top