RELATED THEMES
conflict
development
economics
employment and income
health
OTHER LOCAL THEMES
agriculture
community activities
education
environment
family life
festivals
gender
identity
justice and crime
migration
politics
social relationships
spiritual beliefs
water

BACKGROUND
introducing the area

communications

quotes about communications


key testimonies featuring communications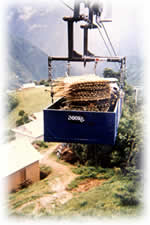 A huge constraint on development in Nepal's hills is the sheer physical effort involved in transporting anything up to the villages, from fertilisers to farm implements. In the past, all building materials, including huge sheets of corrugated iron roofing sheets, had to be carried for miles on people's backs. Even now, in the steep foothills, many villages are hours on foot from any road head. But new road links have eased transport and marketing problems, and improved access to health facilities. While they have also thrown porters out of work and, some say, helped introduce or increase the spread of animal diseases, generally they are welcomed. Many older people stress what a difference better transport facilities make: "Now you do not have to walk on muddy and slippery tracks to go to town and market.Even if you have to walk, it is just for half to one hour as a bus is available near the village. Before one had to go on the downward slope, shivering on the slippery track in rain, with a load on your back and a stick for support. Now all those hardships do not have to be faced" (Nepal 31).
Motorable roads are not the only solution. One narrator (Nepal 23) describes how his community thought of an alternative: "[We live in] a remote, mountainous region with no road network. It was difficult for people here to market their agricultural and dairy products. We used to carry the produce on our backs.... [But] many others from our village and the neighbouring villages were not able to carry their milk to the road head. So we thought of an alternative...this ropeway.... [Now] we sell 300 litres of curd every week."
Radio is the key source of information about the outside world, though some of the newer interviews (Nepal 24-32), gathered in 2002, mention access to TV as well - not always approvingly: "Children these days are interested only in films and television. They have no interest in farming." (Nepal 32). Another woman (Nepal 28) speaks approvingly of how the government has used radio and TV in its campaign against caste prejudice. But the main issue around communications in the new interviews is the disruption as a result of the Maoist conflict. One woman (Nepal 25) talks of telephone exchanges being destroyed by bombs and, like others, says travelling around has become very difficult: "The army checks five, six times on the way to Kathmandu. we have to get off and on the bus at many places. Earlier.the army [soldiers] would simply glance inside the bus and return. a few days ago they even made everyone untie their hair just to make sure that women were not hiding anything under their buns." Several say they get news about the conflict through radio and television but that they do not always trust government reporting.

top
quotes about communications
"If we look at it deeply, this ropeway is far more useful than a motorable road. This does not destroy our environment or our forest. Roads in the mountain get damaged during the rains. It is not always possible to construct roads everywhere, and road construction requires huge investments. We saw this ropeway as a simple, easy and quick alternative and made a request for it."
Chandra Bahadur, M/55, Nepal 23
"[Maoists] destroyed buildings, the telephone exchange etc. They attacked the VDC building. they say the telephone line will be not restored for five years. When there was a phone or two in the village it was convenient for everyone. If you paid, it was available. Now, not having a telephone is like having a broken limb. We are unaware of the happenings, good or bad, in the city."
Durga Kumari, F/50s, Nepal 25
"In those days I used to bring a sack (14 pathi) of chemical fertiliser .I had to bring it from Chabahil. Then it was provided in Darh Khola which is a bit nearer and sometimes we even had to go to Lamidanda to get it. Then, this road was being built, we worked on this road also and we had to carry the chemical fertilisers all the way. Life was very hard then, it's like heaven nowadays."
Ram, M/53, Nepal 17
"With the road, it has become easy for the people to go to Kathmandu. It is easy to go to District Headquarters if they have some work. It is easy to sell the local products, such as potatoes, rice, maize and millet etc. Before the goods had to be arrived up to Lamidanda to take them to Sankhu, now you don't have to carry at all. It has also become easy for us to bring salt, fertilisers, tin corrugated sheets and other construction materials for the houses from Kathmandu."
Ramji, M/35, Nepal 12
"Those kind of people (porters) haven't benefited at all [from the road]. Before they used to carry our goods to and from Sankhu and earn wages, but now they can't get that work so people are out migrating to cities or going higher up to Helambu in search of work. So their economic condition or the living standard has gone down."
Ramji, M/35, Nepal 12
"...when the women were in trouble, they had to be carried, those who had the money could hire the porters but the poor could not afford [this], so the women died during their pregnancy or delivery... But now there aren't so many such cases... The poor have also benefited, because with the road many kinds of works became available. People want to make houses and shops near the road, the roads need maintenance so the poor are getting enough work to make their living. Some are getting work as traders of the trucks, they load and unload rocks and stones, now they are making the road towards Lamidanda and I hear they get Rs200 per trip."
Ram, M/53, Nepal 17
"In the lower region they have transport facilities so many organisations come and work there, but here in the higher mountains nobody comes, so the main aim of [our organisation] is to establish its office here in the villages and operate from here."
Ramji, M/35, Nepal 12
"Now there is also light from solar panels. TV is also shown in the village. Though it's hilly, change has taken place. Now after getting down from the vehicle one has to walk a little, about one hour to reach home. [Before] we had to walk from morning to evening. Moreover, those who could not walk all that much had to halt overnight. That meant it used to take two days."
Goma, F/29, Nepal 24

top