RELATED THEMES
gender
social change
OTHER LOCAL THEMES
agriculture
communications
conflict
development
economics
education
employment and income
environment
festivals
forestry
health
identity
justice and crime
livelihood strategies
migration
politics
social institutions
spiritual beliefs
tourism
traditional skills
water

BACKGROUND
introducing the area

family life

quotes about family life


key testimonies featuring family life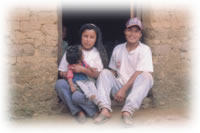 Narrators, young and old, talk of families with many children - still, it seems, a common feature of life in the Sierra. Here, for example, are two generations of the same family in Ixtepeji: "We have seven sons .we work with three, but there is another boy. [who] works by himself because he is married. We are only living with the one who is single.the other two work by themselves" (Mexico 23) and: "After that I got married, I had children, I had seven children, four boys and three girls" (Mexico 24).
Young people tell of early assumption of responsibility for bringing in income to help the family: "If I had had the opportunity I would have probably continued studying but my parents didn't have anything in those days, that's why I had to work and leave the primary school" (Mexico 15). Several talk of taking up their first cargo (unpaid community position) at the age of the 14.
Community life still makes demands and calls for sacrifices which are at times felt to be heavy, and can conflict with family responsibilities, as a narrator from Ixtlán (Mexico 15) tells: ".one must accept putting the cargo in front of any problem, economic or family.When they gave us the cargo of topil (junior cargo position involving running errands and keeping order) in the municipal office we didn't have any income whatsoever, it was very difficult to support oneself." Another man (Mexico 14), elected in his youth to an important community role in Yavesía, says: "If.the village places its trust in you; you have to go on. It's difficult because there are problems, including here in the family, because at times one prefers the [community] problem to being at the home. We've had little problems like any couple. Well, they say to me that either you prefer your home.or your work. Sometimes I say to my parents that in fact the work is very important too; it is territory that's being fought over."
There are fewer arranged marriages now than in the past: ".now, as the times are changing, the priests explain things, they make us look at the things more carefully, one becomes more aware and this also helps the young people of our time, doesn't it?... It is different now. Because they have been given the right [to choose] but [young people] must be made aware that they have to live well in the marriage so that they don't destroy their lives" (Mexico 16). This same woman, now in her 60s, describes how powerful machismo was in her youth, saying that a woman was sometimes treated like "a slave, a work machine". She went on: "the poor women in those days lived like that, being put down by their husbands because they had bought them like an object." Things have improved somewhat today, she concludes.
One narrator (Mexico 12) talks of how cohabitation, without marriage, is generally contrary to community values: ". at the moment. I'm living with someone. I was married before, I got married in the church with someone from here, from the village but unfortunately it didn't work out and we separated. So now I live with another person and I have two children, yes! Registered as born in Yavesía. [Cohabiting is] . a little difficult because I try to follow the tradition of marriage but, as I said, unfortunately it didn't work out. Well, in fact.my partner isn't from here but a neighbouring community, so that makes it a little more difficult.but one's got to know how to cope with it to be able to live well and agree with the traditions and with the other villagers, don't you?"

top
quotes about family life
"I can remember many things from my childhood, but maybe the most important thing I remember is the teaching of my grandfather. Because my father worked away - he was one of the first migrants from Yavesía - so I mostly remember the teachings of my grandparents".
Mario Fernando, M/36, community manager, Yavesía, Oaxaca, Mexico 12
"Some people think that it was better in the old days.that they truly did live in unity because they didn't want for anything [and] the people that had, lent to the people that didn't.[but] there were also difficult situations because the men were still very attached to machismo. [The man] thought that the woman was something that he had bought and that he alone could order her about."
Soledad, F/62, Ixtlán, Oaxaca, Mexico 16
"On 10 May there was a very lovely festival, because it brought together all the mothers in the family, from the oldest grandmother to the youngest mother. They got together at the school, and there they made a meal for all the mothers. Sometimes there was venison.they sang the mañanitas (traditional songs).everyone was celebrating. people danced all night - until dawn."
Maximina, F/67, trader, El Punto, Ixtepeji, Oaxaca, Mexico 27

top