RELATED THEMES
agriculture
community activities
resettlement
social change
social institutions
spiritual beliefs
OTHER LOCAL THEMES
compensation
culture and customs
development
economics
education
employment and income
environment
environmental knowledge
family life
gender
health
history
justice and crime
land
livelihood strategies
livestock
migration

BACKGROUND
introducing the area

social relationships

quotes about social relationships


key testimonies featuring social relationships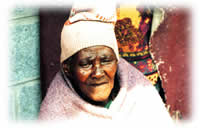 The testimonies reveal a strong sense of community. In general, the people of Molika-liko help one another when someone has been bereaved, on occasions such as weddings, and with activities such as ploughing, hoeing and harvesting. Although a number of transactions and activities in their lives have been commercialised, the strength of the social responsibility that members of the community feel towards one another is such that some produce, for example milk, is freely available to the needy: ".say it is not there at your home, [the one who has milk] pours some milk for you so that [you can give your] children [to] eat..There is no child who can eat papa (hard porridge) on its own when others are eating with milk. (Lesotho 27)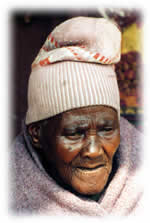 According to a 72-year-old, the basis of this mutual assistance is more than just the expectation by the helper that the favour will be returned. Already anticipating a colder, more individualistic social environment in the lowlands, he speaks nostalgically about how in Molika-liko residents report their problems to one another and discuss them with neighbours at the end of the day's work: "In the evening when we come back [from the fields]... you talk to one another [and say] 'Hela , I worked like this' [and the neighbour] will also say 'Hela, I worked like this'". And he, like many others, makes the point that there are no burglaries in the community.
At a practical level, Molika-liko residents have organised themselves into associations to help one another with funeral costs. But there are other more complex but informal arrangements: repayment for some food at a crucial moment might be through an offer of labour, or when some seeds have germinated, or some livestock have produced offspring. The elderly with no blood relations to look after them are the responsibility of the community as a whole. Younger men plough their fields in a sharecropping arrangement. One narrator insists: "The elderly of here do not need money. Actually [they do] not struggle" (Lesotho 27); another feels differently, saying old people "live in a terribly pathetic way" (Lesotho 14b). Whatever the current situation, it is likely that the break-up of these mutual support systems will especially affect the elderly, widows, and the handicapped - those who rely on such systems the most and manage to survive without money.
Although imminent relocation may have caused some to romanticise the degree of community spirit that exists, most narrators do not pretend their relationships are always harmonious - dissension and quarrelling existed too. The people of the lowlands are viewed with mixed but mainly negative feelings. They are seen as weak and contemptible because, for example, they eat food made of a "packet of flour" that is "carried under the armpit" - instead of home-grown wholesome flour ground by stone. Others call them "cheats" who regard themselves as smart and view highlanders as stupid. Life in the lowlands is seen as being full of choices but also difficulties. And in general, people do not expect the same mutual support networks to exist: "[We] are used to the fact that ... when I get to you, I arrive and say 'My children slept with hunger, [in situations like that]... you give me some flour and I go and eat with my children. Now, in the lowland there is no such thing". (Lesotho 16)
Narrators are aware that the life and sense of community that exists in Molika-liko cannot simply be transferred to and reproduced in another place. As one woman points out, grafting these social networks onto life in the new area will result in something that will "...not be the same because it will now be at another place" (Lesotho 18). There is uncertainty for many about what people in the new areas will be like or how they will behave towards them.

top
quotes about social relationships
"[An elderly person] lives well because when she does not have relatives and let us say she has fields, she is still able to plough for herself. Sometimes when she does not have animals she will talk to a person who has animals and they would plant in halves. She is still able to make herself live when she has harvested a few bags and she takes some to sell and get some money and go and buy some soap. The elderly of here do not need money. Actually [they do] not struggle."
Tanki, Lesotho 27
"We do not know, now that we are going to live in other people's villages, who do not know us, we do not know them. We are separating from our friends, these one who were looking after us [saying] 'Grandmother, take some porridge'; now that it is that we are separating. It is cruelty."
'Maseipati, F/elderly, Lesotho 12
"I think we still have good neighbourly relations when we get [to the new locations]. We shall still share problems together. Also we shall make new friends with people who live there."
Tekenyane, M/74, Lesotho 4
"When we arrive there... we will still hate each other just like we hate each other here. We are not pulling in a similar direction. Maybe we shall regret [our ways] when we are now in other villages, come together and work together, I do not know there [whether that will happen]."
Tlali, M/elderly, Lesotho 7

top