RELATED THEMES
agriculture
economics
employment and income
food security
OTHER LOCAL THEMES
communications
community activities
culture and customs
development
education
environment
environmental knowledge
family life
festivals
forestry
gender
health
justice and crime
migration
livestock
social change
social institutions
social relationships
spiritual beliefs
tourism
traditional skills
water

BACKGROUND
introducing the area

livelihood strategies

quotes about livelihood strategies


key testimonies featuring livelihood strategies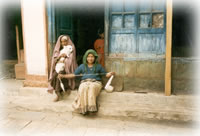 A key difference between the past and the modern way of life is, according to one narrator (India 28) that: "The old system was basically for livelihood purposes, not for earning money." Bartering was a fundamental livelihood strategy: people recognised they had different crafts, skills and resources, and a system of mutual exchange ensured that a wide range of services and foods, as well as labour, was available to all. Another, related strategy was to cultivate as wide a range of crops as possible: for balanced nutrition, to make the most of the environment's many ecosystems, and to protect against the risk of one or several crop failures. Poor labourers were usually paid in food, or a useful commodity such as salt, rather than money.
Another livelihood strategy, at community level, was to encourage the careful use and storage of food stocks throughout the year. The panchayati bhandar (village store) was in effect a grain bank, a formal system to deal with potential shortages. Each household contributed set amounts of grain at harvest time, and were able to borrow from the store in times of short supply. India 3 describes the system in detail.
"Today," Vijay (India 28) says, "man is totally dependent on money." If a farmer lacks food, seed or labour, he or she must have the capacity to buy them. Although it is clear some bartering still exists, most people now operate within the cash economy. Some narrators suggest that this has made them more vulnerable at times of shortage. Certain crafts have declined, as people buy products made outside. Crop diversity too has diminished, with many farmers concentrating on similar cash crops and hybrid seeds. Several narrators remark that the result of these factors is that many communities have lost the self-sufficiency that distinguished them in the past. Some find that they have to take up waged work wherever they can when their food stocks run out, but one narrator regards it as a useful learning opportunity: "For six months we are busy doing farming and we spend the remaining six months in doing some sort of labour, going from one place to another, from one region to another, learning about how other people live, about their customs and traditions and the new techniques to improve farm methods." (India 16)
For some, such as the Gujjars, a shift from a migratory lifestyle to a more settled one has involved even greater changes. The trading of salt and wool, for example, was their way of life: this no longer supports them, and they need cash for many things now, such as school fees.

top
quotes about livelihood strategies
"We gave khaltu (fixed part of new harvest given to craftsmen) to these weavers. This had to be given to them in addition to the food grains that were given them when they brought the woollen cloth home. giving money was not a practice. Now everything has changed.All our traditional implements.are made on payment only. We rarely exchange food grains."
Attar, F/60, Rajput, scheduled tribe, midwife/farmer, India 11
"We got salt from Tibet, we carried the produce from our land on goats and while returning loaded salt on goats. This has been going on from the times of our ancestors. We brought salt during summers and sold it during winters. This was done only by landlords. The poor worked in landlords' fields and were given salt by them."
Bhagat, M/67, Rajput, scheduled tribe, farmer, India 15
"We [nomads] had to wander about in the forests. It was very difficult for the children and for us. The forests were getting thinner day by day. So we decided to settle down, exchange the old life in favour of farming our own land. We thought we would have a comfortable and happier life and that there would be no shortage of grass or green fodder for our livestock. Now the old forests are not there. The evergreen trees are drying up and they are not enough to feed our animals. When cattle-rearing started getting tough we thought of cultivating the land so that our children could be educated and our lives could be happy and profitable. We felt that it was high time we made our homes and started living in one place."
Talib, M/55, Muslim, Gujjar, former pastoralist, India 26

top