RELATED THEMES
community activities
development
environment
environmental knowledge
social institutions
OTHER LOCAL THEMES
agriculture
communications
culture and customs
economics
education
employment and income
family life
festivals
food security
gender
health
justice and crime
migration
livelihood strategies
livestock
social change
social relationships
spiritual beliefs
tourism
traditional skills
water

BACKGROUND
introducing the area

forestry

quotes about forestry


key testimonies featuring forestry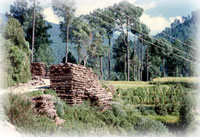 This is a major topic of discussion, with many narrators displaying considerable knowledge of tree species and their uses, and almost all lamenting the loss of tree cover and diversity. The forests traditionally provided people with everything they needed, as Vijay (No 28) explains: "Earlier the forests were in excellent condition. They were so great that agriculture was not as important as it is now.. People settled near the forests. Their main requirements were ghas, lakdu, pani - fodder, fuel, water. People settled wherever they found these three things." The forests provided the first two directly, and protected the streams and watersheds. But populations have grown and demand for forest products has accelerated dramatically. And as many people point out, as tree numbers have diminished, so have water supplies. But population pressure has not had the greatest impact on the forest, say many narrators: state policy has had far greater impact. This is now compounded by road construction, which has opened up previously isolated woodlands to exploitation by outsiders.
Commercial exploitation of the forests by the British colonial authorities and the princely states began in the mid-nineteenth century. Great swaths of oak and deodar (cedar) were felled. Ownership and control of community forests were taken over by the state, and the wide variety of local trees was replaced by single species, often the chir pine. Narrator 10 makes an impassioned plea for a return to mixed forest from such mono-culture planting in which little else can grow and few birds and animals flourish. And, he says, as people often no longer feel the forest is "theirs", they are less inclined to protect it or to put out forest fires. Narrators describe different forms of ownership of the forests today - government and community/panchyati - but the majority remains the former. A common complaint is that government guards are corrupt and illegally sell wood to those who are able to pay bribes.
Narrators highlight the many knock-on effects: with less fodder, livestock numbers have had to be reduced, meaning less milk, ghee and butter, and less dung to fertilise fields. Wild fruits and berries, medicinal and cooking herbs and plants, fuelwood, timber for building and joinery - all are getting scarcer. This affects food supplies as well as the livelihoods of those who sold or worked with these resources. Mohan (India 8), an Ayurvedic doctor, says "85% [of the original mixed forest] has been felled completely", putting professions such as his own at risk. Deforestation on such a huge scale has, many say, affected the climate; rainfall has become much less predictable and the hydrological cycle been disturbed. Water sources have disappeared.
A significant number of narrators have taken action - from Jagat's (No 10) experiments with mixed forestry to some of the women's participation in, and local leadership of, the Chipko movement. In at least one case (India 4) this meant defying her own husband, who was one of the contractors felling trees. Women are often the first to feel the effects of thinning forests, as they have further to go to collect fuelwood, fodder and water, but several say that through Chipko they learned that such over-exploitation was far more than a local issue. All agree that preserving existing or planting new forest is essential to their communities' survival.

top
quotes about forestry
"People had a deep feeling for the forests and when I asked them [why they said] they got their vegetables from the forest as well as grass, fuel etc. There were few forest fires, but if there was one then everybody went in a group to put it out. Today it is just the opposite, if there is a fire today then people are indifferent as nothing which belongs to them is burning; it is the forest department's."
Jagat, M/44, self-taught forester/farmer, India 10
"[The forest] should be in the hands of the village. If the people are motivated to feel that the forest is yours and whatever wood and grass is available will be yours, then they will take it on with a greater sense of responsibility, and the forest will gradually grow. in our village. an area of 8-10 square km was taken over by people. No forest department official is allowed to enter. It has become so dense that nothing can be seen inside it. only the trees and their shadows. People did not have to spend a paisa on it, except that they saved it against animals and human beings."
Vijay, M/41, activist/farmer, India 28
"[The forest] was destroyed for the construction of the road [and] houses, by people who came with cutting machines. They cut the trees ruthlessly for making packing cases for apples. Some people made brisk business of the deodar (Himalayan cedar) wood. This is how the beautiful forest got destroyed. The coming of the road has been partly good and partly bad for us."
Bhagat, M/67, farmer, India 15
".conversion of pine monoculture forests into mixed forests is necessary.Pine is a dry tree. Other species have to struggle a lot to grow under it. It is essential to save the forests."
Dhoom, M/57, horticulturalist, India 30
"We protected the forests because we knew it would make our lives easier. We could get firewood, grass, we could keep livestock in peace. So I gathered everyone together, explained to all of them.we saved the forests. Even now we are fighting this battle.People cut it stealthily at night .sometimes when we are tired from cutting firewood we sit under the shade of the trees, we drink water from the little gullies. What is there that cannot be found in the forests?"
Bachani, F/72, activist/farmer, India 4

top