RELATED THEMES
agriculture
development
employment and income
gender
identity
migration
social relationships
OTHER LOCAL THEMES
communications
community activities
conflict
economics
environment
family life
festivals
health
justice and crime
politics
spiritual beliefs
water

BACKGROUND
introducing the area

education

quotes about education


key testimonies featuring education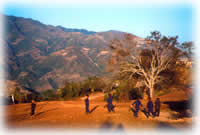 Everyone who comments on education cites it as an issue of vital importance, though they also say that not everyone is so enlightened and that many still see educating girls as a waste of time - about 30% of girls start school, according to one narrator, but only a very small number stay on and gain their School Leaving Certificate. Access is also still an occasional problem. Children in one isolated village cannot reach the nearest school. One narrator (Nepal 13) relates how his determination to seek an education led to his refusing an arranged marriage at the age of 14 and leaving home. He eventually learned to read and write and, returning to his village, conducted a determined campaign to get the local administration to build a school.
Narrators have a range of educational levels, from a man swindled of his fair share of family property because he could not read the documents he signed, to a woman schoolteacher who believes that educated people have a duty "to stand up against society" on behalf of women's right to education. Education is seen as a source of empowerment: a way to improve livelihoods and open up job opportunities (although one narrator says nepotism is more important than education in securing a good job); to enhance the position of women; and to insure against being cheated in life. "When I didn't know anything people dominated me. Now I know something they can't dominate me. If I had got the chance to learn to read in my childhood I would be a different person. In our village two [higher caste] people knew how to write the alphabet. When we asked them to teach us they told us it was not for us to learn.... When the adult education class opened I joined.. Now I know better than them. Then they told me: "Those days we used to dominate you, now you dominate us," says one narrator (Nepal 4) of the Tamang caste. Women are said to profit more from adult education: "They are more serious, they want to learn more."
Because of its power to break down social inequalities, one narrator says, education is abused, with dominant groups trying to exclude others from the benefits it confers. More commonly cited constraints include: sons taken out of school to help with agricultural work; daughters kept at home to do housework or work in the fields or once they reach adolescence; teacher absenteeism and the low quality of some of the teaching; the high cost of schooling. Several narrators say they are prepared to put up with absent but wage-earning husband in order to pay for their children's education. In the new interviews (Nepal 24-32) several say how village schools have often had to close as a result of the conflict, either because teachers have been targeted by the government or the Maoists, or because children are scared of being "abducted" by the Maoists. "We had a teacher in our Lamjung [district] village. His son has gone to [join a] student group of Maoists. while [the] father was teaching he was dragged out of school. [He] was taken by the army and.beaten severely and killed" (Nepal 26).
The government is criticised for not doing more to provide education and concern is expressed that local languages will be lost because they are not used in schools. Some narrators mention that skills training would help people find waged work locally in agricultural off-seasons, while warning that this might just encourage migration to Kathmandu. One woman is clear that migration itself is a form of education: "[Migrant labourers] come back a little more educated, come back with new ideas and understanding, teach new things to children. Due to that things are better in village than before. Now if all people stayed in village only, would anything have happened? .Villagers were not in a position to see new things" (Nepal 31).

top
quotes about education
"The convention is to send the sons to school while the daughters are made to attend to domestic chores like collecting fodder and looking after the young ones. If they are sent to school, barely must they reach the age of 15, then are they considered ripe for marriage. In their own homes they are considered 'strangers' who must one day attend to the care of another's home. So, they are sent away like buffaloes and are not allowed to do anything except to collect fodder and other daily chores."
Indira, F/25, Nepal 9
"For men and women to be equal, for women to practice leadership as much as men do, awareness is necessary. They have to be educated. What can they do if they are not educated? If everyone in the family is educated, everyone will come to terms with one another."
Indira, F/25, Nepal 9
"First, the administration committee should be educated itself. We need a committee which can understand the value of education, why we need education and what they can give to improve the standard of education. With such a committee the standard of education can be upgraded. There shouldn't be a committee which is politicised like we have now."
Ramji, M/35, Nepal 12
"Without working in the field we don't get enough rice to eat, who will work, we did not have labour that's why my daughter had to leave the school... I had to do that. I didn't take her out intentionally. There was no one to work. She helps to boil hot water and to feed the animals. Without animals we can't live. We have to do hard work. I need a helper; that's why I took her out from school."
Ram Bahadur, M/48, Nepal 2
"In my opinion, [the quality of education] is not good these days. The number of students is good and even increasing, but they are not getting as good an education as they should. That is because most of us are uneducated, illiterate, so the parents themselves do not know what kind of education the children need, what should the schools be like. There is no one to monitor the quality of school and education. Again the children have to work in the fields sometimes, and they miss the school so they are always lagging behind."
Ramji, M/35, Nepal 12

top